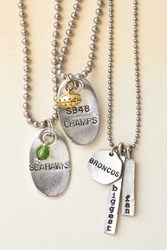 "It's been fun to see our customers take [our custom pieces] in new directions - even on game day," said Janet Kinkade, JK Founder, President and Designer.
Alpine, UT (PRWEB) January 31, 2014
Jerseys and jackets aren't the only way fans are showing their team pride this Super Bowl season - more women are accessorizing with custom jewelry to show their support. Jewel Kade is seeing a significant spike in orders for its hand-stamped charms and Swarovski Fan Club Crystals as the big game draws closer.
With the ability to customize messages on Jewel Kade's Jack Tags, Kate Stamps and Reva Stamps, fans are choosing phrases like 12th Man, Go Broncos, Bronco's Baby, SB48 Champs, and more. To complete the look, they're adding a splash of team color with the Fan Club Crystals (blue, orange, and green are obviously the most in demand) and football Sports Charms.
Complementing the custom necklaces, Jewel Kade customers are also personalizing JK's Jane ID bracelets. The resulting ensembles create a feminine, sophisticated look, celebrating which team fans are rooting for.
"When we introduced our custom hand-stamped pieces, most customers ordered them to celebrate anniversaries, birthdays, and loved ones. It's been fun to see our customers take them in new directions, reflecting everything that matters to them - even on game day," said Janet Kinkade, JK Founder, President and Designer. "As for me, I'll be sporting some blue and green crystals, since we lived in Seattle for several years."
ABOUT JEWEL KADE
Artisan jewelry. Handcrafted charms. Inspiring décor. Available through JK Stylists nationwide, Jewel Kade is a fresh take on timeless fashion. Founded by Designer Janet Kinkade, Jewel Kade's Signature Charms and Poetry Custom Canvases are all handcrafted in JK's Production Studios in Alpine, Utah. Jewel Kade has garnered national attention – appearing on ABC News, The Today Show, The Ellen Degeneres Show, and American Idol. (Citing media references does not imply endorsement of Jewel Kade products in any way by media, related production companies or related spokespersons/personalities.) Committed to making a difference, Jewel Kade also offers the JK Cares Collection. For every JK Cares piece purchased, 5% of the proceeds goes directly to help in the fight against breast cancer. For more information on Jewel Kade's inspiring story, artisan jewelry and Poetry Custom Canvases, visit http://www.jewelkade.com.