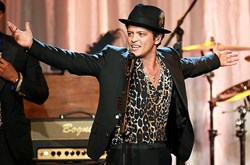 Denver, Colorado (PRWEB) February 01, 2014
It'll be an arctic blast at MetLife Stadium in New Jersey tomorrow. And, like the weather, the pressure will be intense. The whole world is watching. One slip up and you'll never live it down.
Such is the case for players, play callers and half-time performers at this year's Super Bowl – including the sizzling 28 year-old singing sensation Bruno Mars and the Red Hot Chili Peppers.
Afterall, it's the biggest game in American sports, the most watched contest across the country. Last year's Super Bowl pulled in the biggest audience in TV history, averaging 111 million viewers. All told, an estimated 163 million people watched at least part of the game. That's more than half of the population.
Oh yeah, and if TV ads are any indication of the Super Bowl's sensational pulling power, 30-second spots are running for $3.5 million. But, as numerous big name sponsors will tell you, it's a steal of a deal when the super-sized sales receipts are counted.
Mars will hit the field Sunday when the Denver Broncos meet the Seattle Seahawks in 82,566-seat MetLife Stadium in East Rutherford, New Jersey. The pop crooner burst onto the music scene in 2010 with his first album "Doo-Wops & Hooligans," which featured the No. 1 hits "Grenade" and the Grammy-winning "Just the Way You Are".
"Mars was named Billboard's top artist of 2013, and his latest album, "Unorthodox Jukebox," won the best pop vocal album Grammy Award this week. He has connected with fans of all ages, his R&B-pop sound has become a staple on radios around the world, and his live shows are critically acclaimed," said Felina Martinez at BuyAnySeat.com.
"That's why we're proud to offer fans the most complete and continuously updated selection of Bruno Mars tickets available, with a worry-free guarantee to protect their purchase," said Martinez.
"To access our listing of Bruno Mars tickets, fans can go to BuyAnySeat.com and search for Bruno Mars – then select their tickets."
Meanwhile, back to the pressure of performing at the Super Bowl. Who can forget Janet Jackson's infamous wardrobe malfunction ten years ago? Then there's the fact that this will be the first Super Bowl to be played outdoors in a cold weather environment. With kick-off temps predicted to be in the mid-30's, it may be in the 20's or colder by half-time.
Translation: not only will more people be watching than ever – it will also be the coldest Super Bowl in history. This will also be a factor by the time Mars hits the stage. He is one of the youngest artists to perform during the half-time show, following recent performances from Beyonce, Madonna and the Black Eyed Peas.
He says while there's pressure, "I ain't scared!" Opera singer Renee Fleming, who will sing the national anthem on Sunday, gave a press conference ahead of Mars. She said she's feeling the pressure of both the astronomical audience and frigid forecast, but is also excited.
Metlife Stadium has seating for 82,566 fans, including 10,005 club seats and approximately 218 luxury suites, making it the largest venue in NFL. Each of the past four Super Bowls showed an improvement in number of TV viewers at an average of over 103 million per game. The past two Super Bowls have set records and this one is expected to do the same.
For just the fifth time since the AFL/NFL merger, the league's top-scoring offense will take on the league's stingiest defense in the big game. Ticket prices are currently ranging from about $1,300 to over $70,000, added Martinez.
Worldwide, Mars became the best-selling digital artist in 2011. He had three singles in the top ten, including first place with "Just the Way You Are", which sold 12.5 million copies. Mars also won Best International Male Solo Artist at the 2012 BRIT Awards. Overall, Bruno Mars has sold six million albums and 40 million singles worldwide. (Source: Billboard, 10/22/2012)
To shop for cheap Bruno Mars tickets, visit BuyAnySeat.com.
About BuyAnySeat.com: An online ticket marketplace, BuyAnySeat.com connects sports, theater and other live entertainment fans to an extensive worldwide network of ticket sellers. The site's simplified listings and navigational tools enable fans to easily locate, compare and purchase inexpensive, discounted or lower-priced tickets to virtually all advertised sports and entertainment events around the globe.
The online marketplace, which is PCI-compliant and Norton Secured, also provides customers with a complete Worry-Free Guarantee on all ticket purchases. Based in Denver, Colorado, BuyAnySeat.com is a subsidiary of Denver Media Holdings. For more information, please visit http://buyanyseat.com.