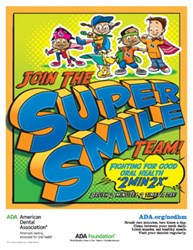 It's never too early to begin developing good habits.
Minneapolis, MN (PRWEB) February 04, 2014
To help the American Dental Association raise awareness about the importance of oral health, cbg|CONFIDENT, is releasing healthy tips and advice for better pediatric dental health in recognition of the ADA's 2014 National Children's Dental Health Month.
"We want to remind parents and caregivers about the importance of good oral hygiene," says cbg's Muriel Otto. "It's never too early to begin developing good habits."
According to cbg, pediatric dental visits earlier in life increase the child's comfort level with the dentist and make future visits easier. To best help a child learn good habits of dental care, cbg is providing ways for children to develop a healthy dental routine.

Do not put a child to bed with a bottle of juice or milk. Letting children go to sleep in the crib with a bottle can cause tooth decay.
Establish brushing routines early. Use a rubber fingertip to clean babies' teeth. As teeth develop, they can begin brushing, but a parent should go in afterwards and go over it again to ensure they are doing it correctly. cbg recommends supervising until they are approximately 9-years-old.
Limit snacks to no more than three times per day. Avoid sticky snacks like fruit roll-ups and gummy bears.
Schedule a child's first dental visit as early as 6 months, even if there is only one tooth.
Because tooth decay is the number one chronic infectious disease among U.S. children, affecting 42 percent of children under age 11, dentists and caregivers nationwide participate annually in National Children's Dental Health Month to promote the benefits of good oral health to children. This year's slogan "Join the Super Smile Team!" poster features the McGrinn Twins, Flossy and Buck, along with their best friends and next-door neighbors Den and Gen Smiley and K-9 the Dog, fighting for good oral health and reminding everyone to brush two minutes two times a day for a super smile.
Practicing prevention goes a long ways, especially with tooth decay. "We want children to get a good start on a lifetime of healthy teeth and gums." Regular brushing and developing good oral health habits not only help prevent cavities, but put children on a course to be Mouth Healthy for Life. The mouth is the gateway to an individual's overall health. To read more tips from cbg about dental health habits for children, visit http://www.shopindividualdental.com.
About cbg:
cbg provides standalone dental insurance, designed for individuals and small groups who want more than the pediatric coverage required by the ACA.
For more than 15 years insurance professionals, employer groups and individuals have turned to cbg for help with their dental insurance needs. cbg also offers non-insurance discount plans, security and identity theft and tele-medicine programs. cbg utilizes state-of-the-art web systems and superior service combined with flexibility to provide a unique experience to consumers and its agent distribution partners.
Get instant quotes for standalone dental care for individuals and families is available at http://www.shopindividualdental.com.