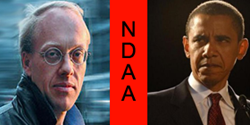 NDAA empowers the government to ship detainees to the jails of some of the most repressive regimes on earth. Journalists who work in troubled areas of the world are placed at heightened risk of indefinite military detention without trial or rights
Washington, DC (PRWEB) January 31, 2014
A group of world renowned journalists and human rights advocates, led by Pulitzer Prize winning reporter Christopher Hedges and Daniel Ellsberg of Pentagon Papers fame, have taken their fight to restore a permanent injunction against Section 1021(b)(2) of the 2011 National Defense Authorization Act (the NDAA) to the United States Supreme Court, by filing a petition for writ of certiorari (Supreme Court Dkt. No. 13-758). The Petitioners also include author and academic Noam Chomsky; and domestic journalist-activists Jennifer Bolen and Alexa O'Brien who have reported on the Bradley Manning trial and Guantanamo Bay conditions, as well as foreign journalist-activists Kai Wargalla (Occupy London) and Birgitta Jonsdottir, who has assisted the distribution of news content from Wikileaks. In court documents filed by Supreme Court legal printer "Supreme Court Press", Mr. Hedges and his attorneys Carl Mayer and Bruce Afran discussed the NDAA and the importance of Supreme Court filing. Complete interviews with Mr. Hedges and his attorneys and are available for re-print royalty-free at our site, and can be found at [http://www.supremecourtpress.com/Petition-of-the-Month/Hedges-Petition-Jan-2014.html and http://www.supremecourtpress.com/Petition-of-the-Month/Mayer-Petition-Jan-2014.html
According to Hedges in documents filed with the Supreme Court (Docket No. 13-758) , "Section 1021(b)(2) of the National Defense Authorization Act (NDAA) permits the U.S. military to detain anyone, including U.S. citizens, who 'substantially support'— an undefined legal term —al-Qaeda, the Taliban or 'associated forces,' again a term that is legally undefined. Those detained can be imprisoned indefinitely by the military and denied due process until 'the end of hostilities.' In an age of permanent war this is probably a lifetime. Anyone detained under the NDAA can be sent, according to Section (c)(4), to any 'foreign country or entity.' This is, in essence, extraordinary rendition of U.S. citizens. It empowers the government to ship detainees to the jails of some of the most repressive regimes on earth." Journalists who work in troubled areas of the world are placed at heightened risk of indefinite military detention without trial or rights by the very nature of their professions—by coming into contact with people who are deemed or might one day be deemed to be undesirable to the military and thus labeled "associated forces". Reporters who are war correspondents, who report on terror networks, or who report on disturbances in unstable lands, might by way of gathering information from a deemed "associated force," be accused of "assisting" said group and be whisked away to a black prison.
On September 12, 2012, Federal District Judge Kathleen Forrest agreed, and issued a permanent injunction invalidating Section 1021(b)(2) of the NDAA. 890 F. Supp.2d 424 (S.D.N.Y September 12, 2012), stating "The Court finds that Section 1021(b)(2) is facially unconstitutional: it impermissibly impinges on guaranteed First Amendment rights and lacks sufficient definitional structure and protections to meet the requirements of due process." She further noted that the Government was unable to represent that the reporting activities of foreign correspondents would not subject them to indefinite military detention, and that the Petitioners had proven that the NDAA has already had a "chilling effect" on reporting.
The Second Circuit overturned the district decision. 724 F.3d 170 (2d Cir. July 17, 2013) reasoning that the Petitioners lacked standing to bring a suit, since they themselves had never been detained indefinitely. According to documents filed with the court by attorney Carl Mayer, this sets up a wicked Kafkaesque situation, because a person who is indefinitely detained would by physically unable to access a court or file a writ of habeas corpus to protest his/her detention. He adds, "Of all the laws passed that undermine civil liberties in America over the last 13 years, this one may be the worst. This law allows the military to pick up anyone in America, including citizens and legal residents, and throw them in a military prison without trial or even a lawyer."
About the Supreme Court Press: Legal Printer Supreme Court Press files briefs in the Supreme Court. The Supreme Court Press specializes in the affordable preparation, printing, and filing of legal briefs in compliance with the rules of the United States Supreme Court. Any document filed with the high court must meet precise requirements on formatting, binding, and delivery. A non-compliant document can be rejected by the court, damaging or ending your client's pursuit of justice. But that is only the tip of the iceberg of the value that we add—our expert team has the editorial talent and Supreme Court brief experience to provide meaningful, game changing suggestions to your Supreme Court brief filing. We will work hand in hand with you to exquisitely prepare, edit, print, and file your documents, taking the worry out of the process for you, and improving your odds of getting in. Call us at 888-958-5705 or email us at editor(at)supremecourtpress(dot)com to discuss your filing needs.
About the Petition of the Month(TM) : The Supreme Court Press' Petition of the Month(TM) program recognizes applicants to the Supreme Court with well-written petitions for writ of certiorari that address important questions of law. We look for cases that meet the criteria of Rule 10 of the United States Supreme Court—important issues where the underlying decision is in conflict with the Supreme Court, another Court of Appeals, or the United States Constitution. If you have a pending petition for writ of certiorari that you believe is worthy of Petition of the Month(TM) advice, you can email us at editor(at)supremecourtpress(dot)com
Disclaimers: The Supreme Court Press does not provide legal advice. The Supreme Court Press does not endorse either party in this matter and expresses no legal opinion on any case selected as Petition of the Month(TM).