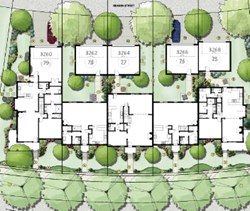 "Many of our residents chose Beaumont Park because it's a convenient, low-maintenance place to live, but they may not be aware of how well the buildings they're living in keep out the cold during the winters here,"
Lexington, KY (PRWEB) February 02, 2014
With temperatures recently plunging to the single digits and below in the Lexington, Kentucky, area, Andover Management Group, developer of Beaumont Park Townhomes in south Lexington, provides some warm reasons for choosing to live in a townhome.
Michael Gale, Regional Property Manager, confirmed it really is warmer to live in a townhome. "Many of our residents chose Beaumont Park because it's a convenient, low-maintenance place to live, but they may not be aware of how well the buildings they're living in keep out the cold during the winters here," he said.
According to Gale, Beaumont's townhomes are built using the latest recommendations on insulation thickness provided by the US Department of Energy, meaning the townhomes are better protected against cold outside air. Additionally, because the townhomes are built in rows and share walls, there is more protection from the cold.
Beaumont's townhomes are built with garages and short driveways, meaning residents' vehicles are protected during weather extremes. "And the driveways are short," added Gale, "so there's less area to be cleared before the car can be moved out."
And Beaumont's centrally built location means owners are closer to stores when it's necessary to go out and stock up before another winter storm hits. According to the Kentucky Emergency Management division of state government, "severe weather remains the biggest, and most common, threat Kentuckians face on a daily basis." Being close to food and other stores means less time on dangerous roads when Beaumont's residents have to prepare for another winter onslaught.
Finally, every Beaumont townhome has a ventless natural gas fireplace that provides zone heating and works even when the electricity doesn't. According to Gale, "We don't like to think about the power going out, but our gas fireplaces keep working even when the lights are out."