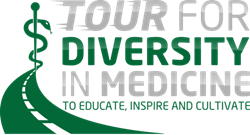 Sponsored in part by the U.S. Army, the Tour for Diversity in Medicine aims to help diversify the health care profession by giving minority students the advice and tools they will need to pursue medical careers.
Albuquerque, N.M. (PRWEB) February 03, 2014
The Tour for Diversity in Medicine, a volunteer initiative developed by two young physicians, will travel across the Southwest from February 3 – 7, 2014 during its fifth bus Tour to help minority students pursue careers in medicine and dentistry. Reaching five universities and colleges in just five days, 15 doctors, dentists and medical school students from across the country will provide free, full-day workshops to local college students. For the first time the Tour also will offer a new combined curriculum highlighting college readiness for high school and college students in Albuquerque, N.M. In addition, the Tour will provide courses customized for the needs of community college students when it meets with them for the first time in Phoenix.
Sponsored in part by the U.S. Army, the Tour for Diversity in Medicine aims to help diversify the health care profession by giving minority students the advice and tools they will need to pursue medical careers. Although African Americans, Hispanics and Native Americans comprise more than 26 percent of the U.S. population, they represent only six percent of practicing physicians and five percent of dentists, according to the Association of American Medical Colleges (AAMC). However, research shows that patients who receive care from doctors of the same background are more satisfied and engaged in their care.
"We're working community-by-community to inspire the next generation of healthcare professionals and make a positive impact on the current state of diversity in the medical profession," said Alden Landry, M.D., co-founder of the Tour for Diversity in Medicine and an emergency department physician at Beth Israel Deaconess Medical Center in Boston. "Our new curriculum for high school and community college students will help even more students better understand how they can overcome perceived barriers of pursuing a medical career. Through in-person meetings and ongoing mentorship after our Tours, we're making a tangible difference in the lives of future doctors across the country."
The Tour for Diversity in Medicine will travel more than 1,700 miles to visit the following schools:

Monday, February 3 University of New Mexico, Albuquerque, N.M.
Tuesday, February 4 Estrella Mountain Community College, Phoenix
Wednesday, February 5 California State University, Dominguez Hills, Carson, Calif.
Thursday, February 6 Sacramento State University, Sacramento, Calif.
Friday, February 7 University of Nevada, Las Vegas, Las Vegas
"The Tour for Diversity in Medicine is working toward a significant goal: ensuring the growing rate of diversity in the U.S. population is reflected among our health care providers, so that patients can receive the best care possible," said Mr. Randy Lescault, Chief of Advertising and Public Affairs for the U.S. Army Medical Recruiting Brigade. "As a continuing sponsor, we're proud to support this impactful grassroots initiative that is taking real steps to help underrepresented minority students navigate their path to medical school. It gives us an opportunity to meet young, motivated students across the country who have a desire to serve their fellow man, and allows for a forum to share information regarding careers in Army Medicine and our Health Professions Scholarship Program."
At each stop, the Tour offers day-long interactive sessions with mentors who review the medical school application process, admissions tests, financial aid, interviewing skills and provide an overview of health disparities. Students also have a chance to meet with mentors one-on-one to gain personal insights and understanding of how to build successful careers.
Additional support for the Tour comes from AAMC, American Dental Education Association and the American Association of Colleges of Podiatric Medicine. The events are free for students, with registration available at tour4diversity.org.
"We've reached more than 1,800 students in 17 states and Washington, D.C. over the past two years, seeing first-hand the positive impact mentorship from doctors who come from similar backgrounds can have on a student's life," said Kameron Matthews, M.D., J.D., co-founder of the Tour for Diversity in Medicine and Chief Medical Officer of the Mile Square Health Center at the University of Illinois Hospital & Health Sciences System in Chicago. "We're ready to get back on the road and continue to spark interest in health care careers among more students by providing them with the access to resources and information that they need to build fulfilling careers in medicine."
In addition to in-person mentoring and live events, The Tour for Diversity in Medicine keeps students engaged at tour4diversity.org with the "Voices of Diversity" blog, interactive webinars and educational videos. Follow the Tour for Diversity in Medicine at Facebook.com/tourfordiversity and Twitter @Tour4Diversity.
About Tour for Diversity in Medicine
The Tour for Diversity in Medicine (T4D), an award-winning initiative from Hip Hop Health Inc., seeks to educate, inspire and cultivate future physicians and dentists of diverse racial and ethnic backgrounds by forming local connections in order to fulfill a national need. Conceived by former medical student leaders, T4D will bring premedical enrichment activities to underrepresented minority undergraduate students in order to assist with the diversification of the health professions workforce. T4D is a grassroots effort and has reached 1,800 students to date. This is the fifth Tour since T4D's inaugural Tour in 2012. Visit tour4diversity.org for more information.