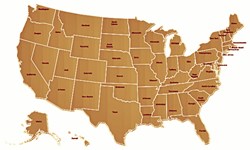 San Jose, California (PRWEB) February 01, 2014
England Van Lines – a reputable moving service that offers local, state, national and international moving services, including commercial and residential – is pleased to announce their new "Price Beat Pledge." In efforts to provide the best deal on services and lead the industry as the cheapest cross country movers, the company is announcing that they will be attempt to beat any competitor's written quote on moves for their customers to earn their business.
A recent Moving Authority report demonstrated that finding the cheapest moving companies for cross country moves often doesn't come all that cheaply. They advised movers that they can anticipate encumbering costs on the low-end of moving, notwithstanding other associated costs, such as the cost of transporting their families, pets and cars to the new destination. The primary advice offered by the report was to shop around for the best deal while being diligent about the mover that you awarded the contract to. Doing so could score you a better bargain, the report said, but only one that is worth it if you end up using a reliable moving company, as sometimes the most inexpensive movers may not in fact be the most reputable, the report warned.
"Families and businesses moving already face numerous hurdles that they must overcome to get from one destination to the other, the logistics of which can be obfuscating at times and stressful," said company spokesperson, William Alexander. "Our goal is to put our customers' minds at ease when they move by providing unrivaled quality and unbeatable customer service. In par with that notion is us assuring our customers that we are the quite competitive in pricing. We plan on delivering that with this announced 'Price Beat Pledge'."
You can learn more by visiting England Van Lines online.
About
England Van Lines is a respected local, national and international moving service based out of Southern California but providing moving services to all 50 states in America. The company utilizes a fleet of modern, cost effective and eco-friendly, bio-diesel powered trucks that operates on low-resistance tires, enabling them to pass the fuel savings on to their customers.
Press Contact:
William Alexander
England Van Lines
(408) 514-5998