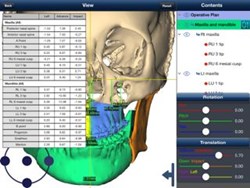 "Never before have surgeons been able to do complete surgical planning using a tool with such intuitive simplicity and show a patient their procedure with such clarity,"
Dallas, Texas (PRWEB) February 03, 2014
MedCAD is proud to announce the release of their latest update of the AccuPlan™ app, the most powerful surgical planning tool yet. 
Version 2 provides more effective tools with enhanced controls, landmark tables, and soft tissue profile prediction. Surgeons are enabled with the full functionality needed to perform maxillofacial surgery without the cost and hassle of other software tools. MedCAD biomedical engineers do all the heavy lifting preparing the digital model surgery and, through cloud computing, the prepared case is saved on the surgeon's iPad, leaving them to adjust, approve and order splints, simply.
"Never before have surgeons been able to do complete surgical planning using a tool with such intuitive simplicity and show a patient their procedure with such clarity,"  Nancy Hairston, president of MedCAD, said.
The app provides planning and case management all in one place and ready to use anytime. Scheduling of phone calls or meetings during a busy day will become the exception rather than the rule. Unlike similar surgical planning software on the market, AccuPlan™ is easy to use and therefore does not interfere with the surgeon's hectic schedule.
MedCAD specializes in custom surgical planning and custom cranial implant design and fabrication for orthognathic and neurosurgical cases. The AccuPlan™ V.2 app is a natural extension of the efficient, medically-accurate and highly-detailed work MedCAD provides its surgeons every day.
iPad app AccuPlan™ V.2 is now available as a free download in the Apple app store.
###
If you would like further information on AccuPlan™ V.2, or you would like to schedule an interview, please contact:
Olivia Lueckemeyer, Marketing, MedCAD
Phone: (970)-497-6667
Email: Olivia(at)MedCAD(dot)net