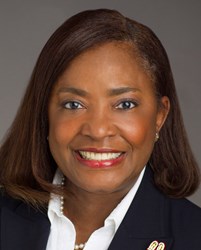 Regenia Stein is a respected leader inside and outside the Network, NEW CEO Joan Toth said.
CHICAGO, IL (PRWEB) February 02, 2014
Regenia Stein, a former executive for Kraft Foods Group, has been named secretary of the Network of Executive Women. She replaces Betsy Hosick of Chevron Corporation, who now serves as NEW vice chair.
"Regenia is a respected leader inside and outside the Network of Executive Women, who has long supported and lived the Network's mission to advance women in the retail and consumer products industry," said NEW President and CEO Joan Toth. "We're excited and grateful that Regenia is part of the NEW officer team as we work on new tools and opportunities for our members and sponsors to advance their women's leadership agendas."
In October 2013, Stein was honored with the Network's William J. Grize Hall of Fame Award, which recognizes industry leaders who have demonstrated "an enduring commitment to the advancement of women and to creating a diverse and inclusive workplace." She retired from Kraft Foods Group last year after more than 26 years of service.
Stein has been a member of the NEW Board since 2006. As sponsorship chair, she was instrumental in launching a partnership program that doubled sponsor support. She has served on the NEW Diversity and Inclusion Council and played significant roles in the Network's succession planning project, the NEW Multicultural Workforce Conference and the launch of NEW Toronto. She has shared her experience at the NEW Leadership Summit and the NEW Leadership Academy and has represented NEW at industry events and been a NEW Ambassador at Kraft Foods Group.
About the Network of Executive Women
The Network of Executive Women is the retail and consumer goods industry's largest women's leadership organization, with more than 8,500 members representing 700 industry companies. The Network has 98 national sponsors and 20 regional groups in the United States and Canada. It hosts dozens of local events and two national conferences each year. For more information visit http://www.newonline.org.