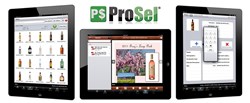 The iPad owns a 75% market share of tablet software downloads and this partnership will help Ai2 keep its commitment to giving our customers the best sales solutions in the business.
CHICAGO, IL (PRWEB) February 05, 2014
Application developer Ai2 today announced a partnership with Apple Business, a division of Apple, Inc. Ai2 provides sales force automation, order entry, proof of delivery and content management solutions for the iPad to wholesale distributors throughout North America and Europe.
Ai2's end users work in wholesale distribution across several marketplace segments including foodservice, grocery, wine and spirits, convenience, CPG, jewelry, hardware, industrial paper and general merchandise. These wholesale distributor clients will now have direct access to hardware, software and support resources from Apple.
"I'm excited to provide our current and future clients with the highest level of service and savings on Apple products," said Douglas Katich, CEO for Ai2. "The iPad owns a 75% market share of tablet software downloads and this partnership will help Ai2 keep its commitment to giving our customers the best sales solutions in the business."
Ai2's relationship with Apple Business will allow Ai2 and Apple to provide Ai2's clients:

A single, direct point of contact with Apple 7 days a week
Non-commissioned technology advisers, to help guide deployment and procurement strategy
Training and support options, above and beyond Apple's standard programs
Financing and leasing options, to increase Ai2's customers purchasing power
Special loyalty pricing for Apple hardware.
"One of the many advantages of our partnership with Apple Business," said Katich, "is that Ai2 will be able to effectively "bundle" its products with Apple's products, thus aligning with Apple policies and protecting our end users' sensitive information. This allows Ai2 to reduce total cost of ownership for our customers." In addition, Ai2 will be able to include Apple Business representatives on deployment strategy calls with clients, ensuring that customers are supported in the decisions they are making about Ai2 solutions.
Design on ProSel - Ai2's app for iPad sales order entry automation - began at Ai2 as soon as the first iPad was released in early 2010. Historically a Microsoft shop, Ai2 altered its course to focus on development of what Katich calls "a truly robust sales rep ordering app for iPad." Responding to increasing demands for mobility in wholesale distribution, Ai2 designed ProSel to go far beyond simple order entry. The result was a robust and feature-rich sales rep order taking iPad app designed for the strenuous needs of the wholesale industry.
Today, ProSel has been adopted by many of the largest wholesale distributors in the US and Europe to provide field sales reps with industry-specific tools tailored to their unique segment of wholesale distribution. Different industries have different requirements and Ai2 touts ProSel's flexibility and configurability as a key strength. There are no shortage of sales applications for iPad, but "ProSel is the only one that feels like it's yours," said Katich. "No two of our clients use ProSel in exactly the same way and once they configure the menus, screens, dialogues and data elements, they have exactly the app they need for their field sales reps."
The ubiquity of the iPad in the business segment proved that demand existed for powerful enterprise-level applications on the world's favorite tablet. As a result of its database development, Ai2 is the only sales force automation app for iPad chosen by SAP to be the focus of a case study. Ai2's selection by Apple Business cements it position as leader in this space.
One major distinction that sets the app apart is ProSel's use of situation-specific data in the field to generate automatic suggested orders. For instance, ProSel delivers detailed sales reports and information on "order voids," or shortages, to salespeople who can immediately fill the gaps on a retailer's shelf. For example, many sales reps using ProSel can determine what the "missing bestselling items" are that are missing from a customer's store during a sales call and ProSel can immediately generate a suggested order to fill these voids. ProSel can also track a retailer's progress in manufacturer-sponsored rebate programs to guarantee 100% rebate order compliance.
Ai2 was founded in 1986 and is headquartered in downtown Chicago. Ai2's solutions improve the sales process for some of the world's largest distributors in foodservice, convenience store, grocery, beverage, hardware, medical, cosmetics, jewelry and more. For more information about Ai2, visit Ai2.com.