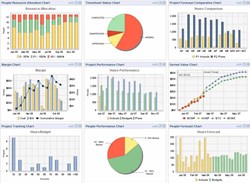 Dulles, VA (PRWEB) January 31, 2014
Unanet, a developer of services automation software that helps project-based organizations manage people and projects for improved efficiency and effectiveness, is pleased to announce its support of the Professional Services Council (PSC) Spring Conference, Marketview 2014, at the Five Star Conference-Wide Sponsorship Level.
The conference will be held at the Omni Amelia Island in Amelia Island, Florida, from Sunday, March 16th - Tuesday, March 18th. This two and a half-day members-only event gathers over 200 senior industry and government leaders in a wide-ranging discussion on current trends and challenges across the federal professional services market, with a special emphasis on national and homeland security. The Marketview conference is designed to take the high level discussions that are featured at the PSC Annual Conference and apply them to key customer segments.
The outstanding list of speakers for the conference includes: Doug Berenson - Partner, Avascent; Kenneth Brennan - Deputy Director, Services Acquisition, DPAP, Office of the Deputy Assistant Secretary of the Navy; Alan Chvotkin - Executive Vice President & Counsel, Professional Services Council; Richard Clarke - Former National Coordinator, Security & Counterterrorism; Alan Estevez - Principal Deputy Under Secretary of Defense, AT&L, Department of Defense; Miguel Garrido - Quantitative Analyst, Bloomberg Government; Greg Giddens - Executive Director, Enterprise Program Management Office, U.S. Department of Veterans Affairs; Ellen Glover - Executive Vice President, ICF International; Roger Jordan - Vice President, Government Relations, Professional Services Council; James McAleese, Jr. - Principal, McAleese & Associates, P.C.; Mike McCord - Principal Deputy Under Secretary of Defense (Comptroller), DoD; and Stan Z. Soloway - President & CEO, Professional Services Council.
Representing Unanet at Marketview 2014 will be Unanet's Founder & CEO, Fran Craig, who is on the PSC Board of Directors, and Unanet's President & COO, Chris Craig. Both Fran & Chris are regular attendees at the PSC Annual and Spring Conferences.
About the Professional Services Council:
The Professional Services Council (PSC) is the national trade association of the government professional and technical services industry. In 2008, PSC and the Contract Services Association of America (CSA) merged to create a single, unified voice representing the full range and diversity of the government services sector. Solely focused on preserving, improving, and expanding the federal government market for its members, PSC is the most respected industry voice and leader on legislative and regulatory policy issues related to government procurement, outsourcing and related business policy. PSC helps shape public policy, leads strategic coalitions, and works to build consensus between government and industry PSC's more than 370 member companies represent small, medium, and large businesses that provide federal agencies with services of all kinds, including information technology, engineering, logistics, facilities management, operations and maintenance, consulting, international development, scientific, social, environmental services, and more. Together, the association's members employ hundreds of thousands of Americans in all 50 states.
About Unanet:
Unanet is a leading provider of Cloud or On-Premise software for project-based organizations. Unanet delivers skills management, resource planning, budgeting & forecasting, timesheets& expense reporting, billing & revenue recognition, and project management reporting. Over 1,000 organizations rely on Unanet to maximize staff utilization, reduce administrative costs by 90%, improve invoicing by 10X, and support forward decision-making for improved operations.