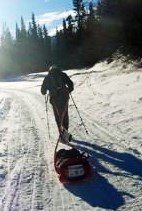 [our] corneas were beginning to freeze.
(PRWEB) January 31, 2014
In the second coldest race on the Arrowhead 135 trail in race history—46 degrees Fahrenheit below zero, including wind chill—even seasoned competitors like Epic Bill Bradley had terrible surprises. Launched in 2005, the Arrowhead 135 draws extreme bikers, skiers, and walkers/runners moving sleds loaded with supplies.
Competing in his fourth consecutive Arrowhead, Bradley noted, "This was definitely a runner's year at -46F. The bikers were flying down the trails, but extreme cold with the wind chill knocked a huge amount out with frostbite. The runners took a beating also, but we had better chances."
Bradley's water supply was nearly frozen, but with swift corrections he was able to store enough to make the next checkpoint. That was after a frightening occurrence, also caused by the extreme cold: "About 30 miles in from the start of race I started seeing double and couldn't figure out why. Then I got to the first checkpoint and overheard a guy talking about the same symptoms. We learned the reason was that the corneas of our eyes were beginning to freeze."
At the checkpoint 52 miles into the race, Bradley had to drop out: "Unfortunately, the ergonomic design of my sled wasn't good for hard ice conditions, the sled was uncontrollable which in the end exhausted me and made it impossible to make the cutoff times."
He is aiming to fix the problem, even if temperatures come close to those on the surface of Mars again in 2015: "The team and I are going back to the drawing board to figure out the best push sled design"
Ray Sanchez, a 2010 Arrowhead finisher, described the shock he experienced: "I started really strong. I was the first person in to the first checkpoint "Gateway" at 3:44 PM but that night the extreme cold took a toll on my feet, I took my shoes off at "MelGeorge" (2nd checkpoint) and found an ice block surrounding my feet. I had frostbite and ended the race."
Bradley has not only completed the Arrowhead's sister race, the Badwater Ultramarathon, a 135-mile race held in Death Valley, California in July, but he has also completed a Double Badwater Ultramarathon. The year he ran it, which was 2010, the temperature matched the number of miles of a single course length—135.
All Arrowhead 135 entrance fees beyond those covering basic costs go to the Special Operations Warrior Foundation.
For interviews with Epic Bill Bradley, contact Mariko Pitts, Rhino Nine Public Relations, mariko.pitts(at)rhino9pr.com; Ph: 510.900.9309