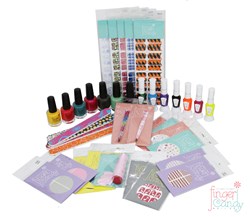 We're overwhelmed by the interest we have from people eager to start buying and selling our unique line of products.
(PRWEB) February 03, 2014
Finger Candy Nail Art will officially launch its website March 1, with a new line of do-it-yourself nail art products. Nail art will be available for sale on the website http://www.fingercandynailart.com through independent distributors throughout the United States.
The first 100 website customers will receive a free polish remover pump bottle with their order. The bottles are used to conveniently store and use nail cleanser without spilling. "We've been looking forward to our official launch for some time," president and co-founder Dave Hall said. "These products are easy to use and attractive for females of all ages."
Finger Candy Nail Art will be primarily distributed through home parties hosted by people who love to spend time shopping with family and friends in a social setting. Hall said independent distributorships are still available in most areas, "People who are looking for a lucrative way to work from home will love what we have to offer."
Customers will soon have access to distributor information online along with the ability to purchase:

nail wraps
decals
polish
design tape
nail art pens
nail art stencils
nail stamps and engraved metal plates
manicure and nail art tools
and more
"We're overwhelmed by the interest we have from people eager to start buying and selling our unique line of products," Hall said. "Women everywhere are looking for artistic do-it-yourself solutions for the latest trends in fingernail fashion. It's a great trend. We will keep our products fresh and exciting to meet the growing demand."
Distributors Signing Up for Ground-Floor Advantage
"Whether you want to make money off of your own retail sales, or you want to build a team and make override commissions from the sales of others, Finger Candy's Career Plan is designed to provide the right opportunity for everyone," Hall said.
Hall family members including Dave (a certified public accountant and small business advisor), his wife Lisa, and their six children operate the company in a rural Southern Utah community together. "This business is a great business because it's family friendly. We want to see mothers and daughters working together to build their futures in a way that is fun and creative," Hall said.
The company is sweetening distributor deals with a standard 40 percent commission and free hostess rewards. "We believe having a good hostess is a key to the success of any party," Hall said.
Distributors need to complete all legal forms and purchase a start-up kit to begin selling immediately. All distributors will be required to meet a sales quota to continue selling Finger Candy Nail Art. Sellers will have access to their own websites once the business is opened online.
To become an independent distributor, contact Donna M. Brown, donna(at)fingercandynailart.com, (855) 833-1855, Ext. 1014.
-END-
Finger Candy Nail Art is a Limited Liability Corporation based in Enterprise, Utah. The company launched home party sales in November and will officially launch online March 1. Finger Candy Nail Art offers a do-it-yourself solution for busy professionals, moms and young ladies who love the simple sweetness of fast, quality nail art.