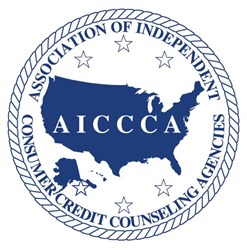 Some consumer behavior almost always assures that debt will become a problem.
Fairfax, VA (PRWEB) January 31, 2014
New Year's Day, and the resolutions that often accompany the holiday, is beginning to fade into memory. One common New Year's resolution is to get out - and stay out - of debt. Member offices of the Association of Independent Consumer Credit Counseling Agencies counsel more than two million people each year and have identified five moves that nearly always spell more debt for consumers.
"Some consumer behavior almost always assures that debt will become a problem," said Dave Jones, president, AICCCA. "Consumers need a plan for their finances. With a plan comes control."
AICCCA says consumers should avoid the following:
Ignoring your financial situation. Keeping an eye on your finances and communicating with your spouse and family is key to staying out of debt. Develop a spending plan that includes all income and expenses. A good place to start is to track your income and expenses for 30 days and use that information to create a workable budget.
Operating without a savings cushion. Without an adequate emergency savings account, you are sure to reach for a credit card when your refrigerator goes out or your car needs repair. Unexpected expenses will come up and having the money on hand to take care of those expenses is crucial to financial well-being.
Using credit to extend income. Regularly using a credit card because you are out to money to purchase essential items like groceries, medicines or gas is a recipe for financial disaster. Examine your spending plan for areas to reduce to bring your spending into line with your income.
Settling for less than the best interest rate. Be sure to include shopping for not only the best price but also for the best interest rate when you are making major purchases. If your credit report is in the best possible shape before a home or car purchase, you will be in a much better position to negotiate the interest rate. Over the life of the loan you could save hundreds or even thousands of dollars.
Paying only the minimum amount due on your credit cards. Paying off a credit card immediately is ideal, but if you must revolve the charges try to get it paid off in three to six months. The credit card companies are now required to tell you how long it will take you to pay off your debt if you pay only the minimum. Depending on your debt, it could take years to pay off and you could end up paying more in interest than the cost of the original purchase.
If you need help getting your financial life back on track, AICCCA counselors are available. Call 866-703-8787 or visit http://www.aiccca.org to find an AICCCA member office to serve you.
Founded in 1993, Association of Independent Consumer Credit Counseling Agencies (AICCCA) is a national membership organization, established to promote quality and consistent delivery of credit counseling services. AICCCA and its members are focused on improved creditor relations, efficient processes and advanced technology to best serve clients and creditors. AICCCA members are independent nonprofit agencies that advocate for debtors, counsel millions of consumers annually nationwide and provide debt management services to consumers with excessive unsecured debt. For more information or to contact an AICCCA member office call 866-703-TRUSTAICCCA (866-703-8787) or visit http://www.aiccca.org.