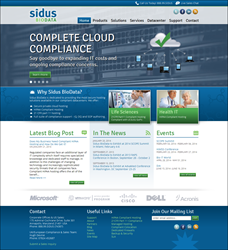 At Sidus BioData we understand that when clients host with us it is a partnership and that there is a shared responsibility in understanding the compliance goals and objectives of each customer as well as their hosting requirements."
Annapolis, MD (PRWEB) February 03, 2014
Sidus BioData, the leader in compliant managed hosting solutions and Compliance Services for Life Sciences, Medical Device and Health IT Companies unveiled its redesigned website http://www.sidusbiodata.com . This site is designed to showcase all the products, solutions and service offerings as well as provide educational resources that clients and prospective clients in the FDA and HIPAA HITECH regulated sectors need in order to make informed decisions about outsourcing IT to a third party provider.
The newly redesigned site was created in the latest responsive design for easy access across mobile and desktop devices. Potential regulated clients can learn about the types of cloud hosting products that are suited to their business, such as community, private and hybrid solutions as well as compliance services such as a HIPAA Risk Assessment or the Installation Qualification of IT systems. These services are administered by the Sidus BioData CISA CRISC, ITIL and Prince II certified Quality Team.
States Sidus BioData's CEO Jason Silva, "The new website is the gateway to services that Sidus BioData offers. Outsourced hosting for these industries is specialized and decision makers must consider much more than just a secure place to store data. In many ways our quality management system mirrors what is required for a Medical Device Manufacturer." Mr. Silva goes on to say, "for Sidus BioData, we understand that when clients sign with us it is a partnership and that there is a shared responsibility in understanding the compliance goals and objectives of each customer as well as their hosting requirements."
Sidus has offered secure managed hosting since its inception in 1999. In 2009, Sidus BioData was the first hosting company to market a validated datacenter. Traditionally, regulated companies have steered clear of using a vendor to host applications and data because it was believed that they could not meet privacy laws, security concerns, audit transparency requirements and that an adequate quality system was not in place. Sidus BioData has a full quality management system in place that governs everyday operations at the facility. The approach is to provide this market group with a turn-key, affordable, compliant hosting solution that gives each customer peace of mind so that they can focus on their core business objectives.
About Sidus BioData
Sidus Data, LLC was incorporated as a Maryland Limited Liability Corporation in September 1999 and is a provider of secure, managed hosting solutions and compliance services for Commercial Businesses, Government Agencies, and Life Sciences/Medical Device and the Health IT Companies. The Sidus team is comprised of over 25 employees including, network engineers, Certified Information Systems Auditors (CISA's) and Certified Risk and Information System Control (CRISC) Specialists, all of whom reside in the State of Maryland. Sidus has created one of the most robust IT Quality Systems in the Life Science Industry and has ensured alignment with US, Canadian and European IT GMP regulations.