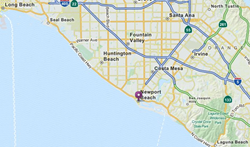 With this move, we can provide better accessibility to our patients who wish to receive our services. -Parsa Mohebi, MD
Los Angeles, CA (PRWEB) January 31, 2014
The Orange County Hair Restoration Center of US Hair Restoration will soon be offering their services in Newport Beach in order to better accommodate patients in the area. Services being offered include hair loss consultation, hair loss diagnostics consisting of a miniaturization study (microscopic evaluation of scalp and hair), scalp biopsy, and pre- and post-operative care for hair transplant patients.
The Newport Beach Hair Restoration Clinic in the Orange County Area will provide medical hair loss treatment services to male and female patients with a variety of hair loss types such as: Male Patterned Baldness (MPB), Female Patterned Baldness (FPB), Alopecia Areata and Cicatricial Alopecia, among others.
US Hair Restoration will be opening its Orange County office in Newport Beach due to the high demand for this central location. Dr. Parsa Mohebi discussed the reason behind opening a new office in Orange County, "Although our previous Orange County Hair Loss Clinic was located in a beautiful plastic surgical facility in Foothill Ranch, California, we felt a need to have a presence west of the OC area in order to cover the Newport Beach, Huntington Beach, and Laguna Beach areas. With this move, we can provide better accessibility to our patients who wish to receive our services." Following Beverly Hills, Newport Beach is the third most popular city for celebrities in Southern California. Celebrity hair restoration has become highly popular among Dr. Mohebi's patients, which led him to offer his services to those in the Newport Beach area.
Dr. Parsa Mohebi is excited about the upcoming launch of his new office where he can offer the same great services, to those living in Newport Beach and the surrounding areas.
About US Hair Restoration:
US Hair Restoration was established in 2008 by Dr. Parsa Mohebi. As chairman of FUE Research committee and creator of the several methods and techniques in modern hair restoration, Dr. Mohebi and his staff provide the most advanced techniques in hair restoration. Dr. Parsa Mohebi proudly provides services in the Beverly Hills, Encino, and Orange County hair restoration centers in order to better serve all patients. The overall goal at US Hair Restoration is to restore patient's self-esteem through the use of quality hair restoration.