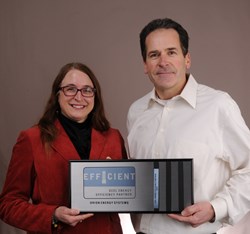 Manitowoc, WI (PRWEB) February 03, 2014
Throughout the year, Xcel Energy offers incentives such as rebates or funding for energy assessments to its business customers to encourage them to make energy efficient choices. Orion works with Xcel Energy to achieve maximum incentives for customers who complete energy projects. For example, Orion helped Rocky Mountain Metal Container complete a non-traditional multiple phase retrofit project at their production facility that qualified for a combination of prescriptive and custom incentives from Xcel Energy.
"Sure, the combination prescriptive and custom incentive required extra effort, but it helped the project gain a favorable ROI allowing the customer to confidently move forward with the project," said Klaus Pilz, Orion Energy Systems National Account Representative. "Orion's Rebate Management Team excels at reaching out to local utilities to explore all incentive options on the customer's behalf."
"Many of these conservation projects are often invisible to those not directly involved," said Karen Rhodes, Xcel Energy Efficiency Marketing Manager. "These awards are a way to congratulate these businesses so that employees and customers realize what's happening behind the scenes."
About Orion: Orion Energy Systems, Inc. (NYSE MKT: OESX) is a leading power technology enterprise that designs, manufactures and deploys energy management systems – consisting primarily of high-performance, energy-efficient lighting platforms, intelligent wireless control systems and direct renewable solar technology for commercial and industrial customers – without compromising their quantity and quality of light.
Visit http://www.oesx.com to harness the power of value driven energy solutions today.
Contact: Jennifer McCue, Vice President of Promotions and Sales Opportunities
Orion Energy Systems, Inc.
Phone: 920-482-1907
Email: jmccue(at)oesx(dot)com