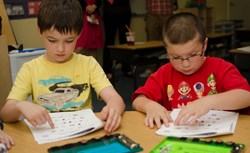 Owings Mills, Maryland (PRWEB) January 31, 2014
The Shafer Center for Early Intervention announces its move to a new location in Owings Mills, Maryland. The new 16,000 square foot facility includes 20 separate spaces where the school's staff works on individual programs for children who are on the autism spectrum. The facilities include classrooms, small space rooms for 1-on-1 work, larger rooms for group sessions, and an occupational therapy room.
With more than double the square footage of its previous location, the school also now provides a library for the children as well as resource materials s for parents and the school's staff. In addition, the school now has an integrated admissions suite, a room for families to meet with teachers and therapists to discuss their child's progress, and two conference rooms (The Angry Bird conference room and the Lego conference room).
"We are absolutely thrilled to be in our new space. We worked hard to ensure the facilities provide every opportunity for the children to maximize their potential, whether with their academics or social learning," says Helen Shafer, Founder and President of The Shafer Center. "The children have settled in beautifully to their new class and therapy rooms, it's great to see them respond so well to the change."
The new location for The Shafer Center also provides offices for the school's special education instructors, speech-language therapists, and applied behavior analysis staff. To enable students to reach their fullest potential, The Shafer Center conducts a thorough analysis of each student's abilities then groups students based on their skills while also considering their age. Students progress from the school's "Imagine/Engage" class, to the "Believe" class and finally to the "Dream" class. Students move from the Dream class to public or private schools to continue their education. The Shafer Center's staff also works with children with autism at their schools or home to reinforce lessons and therapies.
The Shafer Center develops individual programs for each child in its programs. Each classroom at the Shafer Center is led by a special education teacher, a speech-language therapist, and an applied behavior analyst; all of whom work together to reinforce observed positive behaviors and to intervene on negative behaviors.
Helen Shafer says the school is currently seeking new employees for several positions. The new hires will include a person to supervise the in-house nursery for children of staff members. Several entry-level therapists with training to work with children on the autism spectrum will also be hired at The Shafer Center in the next few months. Those interested can email their resumes to careers(at)ShaferCenter(dot)com.
The Centers for Disease Control estimates 1 in every 88 American children are on the autism spectrum. Studies also show autism to be more common among boys (1 in 54) than girls (1 in 252) in the United States.
The Shafer Center for Early Intervention is now located at 11500 Cronridge Drive, Suite 130, Owings Mills, Maryland 21117. Children at The Center range in age from two to eight years old. The Shafer Center also provides off-site intervention services for children well into their adolescent years. The Maryland Department of Education has accredited The Shafer Center for Early Intervention as a non-public school.
ABOUT
The Shafer Center for Early Intervention knows that being the parent of a child with special needs can be challenging. By being a central resource for families seeking education, assessment and treatment, The Shafer Center replaces fear and uncertainty with hope and knowledge. The Center's unique approach and methods improve a child's opportunity to succeed, and in turn, make it a rewarding experience for the entire family. The Shafer Center for Early Intervention accomplishes this by integrating three vital components that make its programs the optimal choice for treating children with autism spectrum disorders:

A Whole-Child Approach
A Multi-Disciplinary Team
A Focus on Maintenance and Generalization of Skills
For more information about The Shafer Center for Early Intervention and its unique environment, visit the Center's website at http://www.ShaferCenter.com.