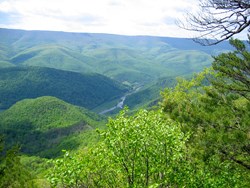 Petersburg, W.Va. (PRWEB) January 31, 2014
For those of us on the East Coast during this brutally cold winter, the symptoms of cabin fever have clearly set in: you've transformed into Betty Crocker for the week that school was canceled, complete with a cutesy apron and buttered biscuits served at every meal; the children inflict body harm upon each other as some sort of cruel, yet slightly entertaining game, are you actually beginning believe that hell can actually freeze over.
The antidote? Leave. And don't just your house—leave your city or your town, and get out. You've been trapped inside long enough. It's time to pack your bags, hit the road, and cross an unlikely destination off your bucket list: Grant County, West Virginia. Because, why not? It is the perfect time to begin planning a spring getaway.
You haven't heard about Grant County? Oh man—are you missing out. Grant County is a little piece of heaven where down home cooking, sweet tea and front porch sitting are just a part of everyday life. Where outdoor living means pitching a tent in the forest, fishing for your dinner, and mountain biking till your hearts content.
Here are five reasons ya'll need to get off your rear, leave the homestead, and make your way on down to Grant County, West Virginia this spring:
One fish, two fish
The South Branch of the North Fork of the Potomac River (say that five times fast) boasts some of the best trout fishing the country has to offer. Grant County is home to Harman's North Fort Invitational Fly Fishing Event, an annual two-day fly-fishing tournament that attracts anglers from across the country, and is a favorite of Curtis Fleming, host of the Fly Rod Chronicles on the Outdoor Channel. Come as a spectator or try your hand at fishing at Blackwater River, Seneca Creek, Elk River, Gandy Creek, or the catch-and-release section near Smoke Hole.
All aboard!
Experience the atmospheres of times past at the historic South Side Depot, where West Virginia history and culture are on display. Located in Petersburg, the county seat of Grant County, the South Side Depot is a beautifully renovated building where visitors can shop for handmade wares from Appalachian artisans or catch one of the many wine tastings and dinner train rides offered throughout the year, featuring West Virginia made food and wines. Dinner trains are held during Valentine's Day, summer and fall. During the holidays, children will enjoy the Snowflake Express, a holiday-themed train ride where children will meet Santa Clause and Mrs. Clause while traveling to a local light show.
Experience the Civil War
Grant County bears the name of one of the war's most illustrious warriors, Ulyssess S. Grant, and is the ideal place to extend your children's history lessons to real life. Grant County's battlefields, trails and museums attract Civil War enthusiast from all over the country. Visit Fort Mulligan, one of the country's most well reserved earthen forts, or check out the mammoth collection of military vehicles, gear and weapons at the Top Kick's Military Museum. The County also hosts Civil War train rides throughout the year.
Get up and get moving
With thousands of miles of trails, there is no better place to get up and get moving than Grant County. The County is home to hundreds of miles of trails. At 4,863 feet, Spruce Knob is the highest point in the state of West Virginia and perfect for those looking for a little hiking adventure.
Part of the Monongahela National Forest, Dolly Sods Wilderness spans across Grant, Randolph and Tucker Counties and features 47 miles of hiking trails. The area is known for high-altitude plateaus and vistas more commonly found in Canada. North Fork Mountain Trails is another popular hiking destination. Over 20 miles of trails gives hikers the opportunity to see rare wildlife, and is even considered one of the most ecologically and biologically significant areas in the Central Appalachian Forest ecosystem.
Roughing it luxuriously
Take a break from the fishing, hiking, and other outdoor adventures and take little time to relax riverside at Harman's North Fork Cottages. Talk to anyone in Grant County and they'll recommend these beautifully built log cabins. These spacious cabins have large hot tubs, and their accommodating staff is always willing to help you plan your trip to nearby attractions.
If you're ready to kick cabin fever in the rear, start planning your spring getaway to Grant County by visiting http://www.grantcountywva.com or by calling 866-597-9266. Located just hours from Washington D.C., Baltimore and Northern Virginia.
Media Contact:
Salle Mickey
salle(at)platinumpr(dot)com
304-876-8321