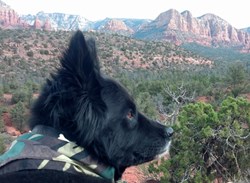 There should be more solar in Arizona.
Sedona, AZ (PRWEB) January 31, 2014
The Solar Dogs typically find themselves entertaining customers and guests of Ambassador Energy and students of Ambassador Energy College in their sleepy town of Murrieta, CA. This week, however, they enthusiastically joined their parents on a trip to cultivate new solar relationships in Arizona – specifically, General Contracting, roofing and electrical firms, who are looking to add solar PV to their portfolios.
"We had business to do in Phoenix and Sedona, so we added a little fun to the trip by bringing Lobo and Woofy. They are at the AE office and training center with us every day, so they can help us, because they know solar…or at least, that's what we tell people," Steve Fulgham, CEO of Ambassador Energy said with a grin. "Lobo thinks there should be more solar in Arizona."
Lobo became Lobo the Solar Dog several years ago when the Ambassador Energy marketing department used her as their model on their first billboard. They had the sign company construct giant cutouts for her iconic ears on the sign, which welcomed passersby on the historic Route 395 in Southern California.
"Lobo and Woofy are a huge part of our company," said Julia Oliver, Director of Operations for Ambassador Energy. "If they stopped coming to the office each day, I think many on our staff would quit. Our company culture really benefits from having these precious babies around. I'm glad that the Solar Dogs are spreading solar cheer in Arizona. We can spare them this week for that and look forward to helping our Arizona agencies install more solar."
About Ambassador Energy
Ambassador Energy [AE] has a three-pronged business model, which includes Ambassador Energy College Solar Training, the Ambassador Energy Agency Program and the installation arms, Ambassador Energy and Ambassador Solar. On staff are NABCEP Certified PV Installers, NABCEP Certified PV Technical Sales professionals [Fulgham/Kelso] and multiple NABCEP EL graduates. AE holds California licenses General Contractor B, C10 Electrician and C46 Renewable Energy. Ambassador Energy is IREC/ISPQ accredited. AE Agencies are nationwide. Ambassador Energy installs residential and commercial PV systems throughout California and the US.