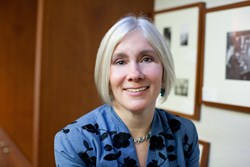 New York, NY (PRWEB) February 04, 2014
Mary F. Hastings has been named the new Chief Development Officer (CPO) at The Boys' Club of New York (BCNY), a position that is also new to the organization. As CDO, Hastings is responsible for creating and advancing a diversified fundraising and communications plan with a special focus on major gifts. She will lead all major fundraising campaigns, as well as substantially increase the organization's annual budget.
"I am honored to begin my work with The Boys' Club of New York. I would be hard-pressed to find an organization with a stronger track record of nurturing and educating the promising young men of New York City," said Hastings. "Having guided generations of boys in our clubhouses, I look forward to supporting our Directors and teachers as they strive to create the next generation of confident young men."
"We are so fortunate to have Mary leading our development efforts as we enter an exciting and challenging period. She has a successful track-record and brings new energy and excellent ideas to BCNY," said Executive Director Stephen Tosh, "I am confident that she will work well with our trustees as we expand our fundraising."
Mary Hastings joins The Boys' Club of New York after serving as Executive Director of the American London Symphony Orchestra Foundation. As ED, a role she will continue to hold in a volunteer capacity, Mary raised funds for the London Symphony Orchestra's tours to the United States and markedly increased private donations, corporate sponsorships and foundation giving.
Prior to ALSOF, Hastings was Director of Development for The New School for Jazz and Contemporary Music and The New School for Drama, Director of Special Events for The Foundation for Jewish Culture and Director of Education and Community Outreach at the Bloomingdale School of Music.
Outside of work, Hastings is an award-winning trumpeter with a Masters of Music from The Juilliard School. She remains an active performer and teacher and is currently on the faculty of Queens College at the Aaron Copland School of Music. Additionally, Hastings was a volunteer emergency medical technician with the Central Park Medical Unit for eleven years and holds a second degree black belt in Seido Karate.
BCNY, a youth development organization that uses a multi-disciplinary approach to prepare boys and young men to achieve their full potential, is thrilled that Hastings will be taking on this new role, and congratulates her on her successes. For more information about BCNY visit http://www.bcny.org.
About The Boys' Club of New York
The Boys' Club of New York is committed to nurturing, mentoring and guiding boys and young men to prepare them to reach their fullest potential. Throughout its 138-year history of youth development, The Boys' Club of New York has combined a single-minded focus on boys and young men with a unique, multi-disciplinary approach that prepares them for a fulfilling and meaningful adulthood. The Boys' Club of New York accomplishes this through an approach that includes music and arts programs, social and recreational activities, academic support, and athletics.
By introducing boys to new ideas, expanding their interests, developing their real-world skills, providing a safe and nurturing environment, and offering ongoing counseling and mentorship, the Boys' Club of New York helps shape boys and young men into the best men they can be.