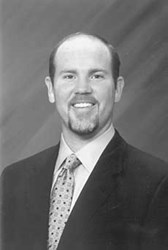 Lafayette, LA (PRWEB) February 02, 2014
James M. Finley, D.M.D., a periodontist who provides advanced solutions for people with receding gums, teaches his patients about the four techniques available in gum grafting this year. With multiple methods to work with, Dr. Finley can craft a solution that will improve the patient's oral health, and equally important, one that will help the patient to avoid common risks associated with gum recession, such as tooth loss and jawbone damage.
Gum loss is a serious problem that can be caused by genetic factors such as a crooked or misaligned bite, or grinding of your teeth. The most prominent cause of gum recession, though, is inadequate dental care, like brushing, flossing and getting dental check-ups and cleanings. If allowed to accumulate, plaque and tartar on the teeth allow bacteria to accumulate at the gum line in pockets that erode the healthy tissue.
Using one of the four types of gum grafting, Dr. Finley crafts a plan to resolve gum recession from the techniques in his arsenal, including, pedicle grafting, connective tissue gum grafting, free gingival gum grafting, and regenerative tissue matrix. To learn more about the different methods of gum grafting, call Dr. Finley and discover which method will correct your receding gums.
Teeth are designed to last a lifetime with proper care. The opportunity to counteract receding gums is a valuable second chance at full oral health for many people. For more information on the advanced techniques in gum grafting that Dr. Finley offers to give his patients a chance for improved oral health in the New Year, contact Finley Periodontics at (337) 504-7263 or visit the clinic's website at http://www.finleyperio.com.
About the Doctor
Finley Periodontics is a periodontal practice offering personalized dental care for patients in Lafayette, LA. Dr. James M. Finley received his D.M.D from the University of Mississippi School of Dentistry and his certificate in Periodontics from Louisiana State University School of Dentistry. He went on to earn his M.S. in oral biology from Louisiana State University while serving as a full time assistant professor. Dr. Finley is part of one percent of dental professionals providing the LANAP FDA cleared laser procedure for gum disease and periodontal treatment. To learn more about Finley Periodontics and their dental services visit their website at http://www.finleyperio.com and call (337) 504-7263.