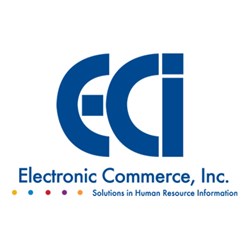 We at ECI know what Year End can be like and are always here to help clients through the process of making sure their employees are accounted for accurately and timely. - Jeff Lacy, President and CEO
Elkhart, IN (PRWEB) January 31, 2014
Electronic Commerce, Inc. (ECI), a leader in web-based Human Capital Management (HCM) applications, delivered W2's to Payroll clients in record time this year, allowing extra time for necessary adjustments and for client employees to file their tax returns early.
The company had W2's delivered to 43 percent of its clients the first week of January 2014, and not withstanding a few exceptions, the balance of client W2's processed by January 18, 2014. This is a testament to ECI's Payroll Processing Team for continued high standards of customer service and accuracy.
"We at ECI know what Year End can be like and are always here to help clients through the process of making sure their employees are accounted for accurately and timely," says Jeff Lacy, ECI President and CEO. "We begin preparing for Year End in late summer and send out many communications to help them plan."
Items like Affordable Care Act reporting requirements, Fringe Benefits, Third Party Sick Pay, Expenses, Stock Options and Bonuses are all covered in ECI bulletins and seminars.
"We then give our clients quick access to preview copies for their own review and work with them on how they want to ship their W2's, as well as when they want online access," Lacy says. "We also assist those that need it with entering their fringes, Box 12 DD health care reporting numbers and other adjustments."
About ECI
ECI is a Software as a Service (SaaS) provider of fully unified, Human Capital Management (HCM) applications in the Cloud. ECI is dedicated to equipping complex enterprises and midsize organizations with the Human Resource Information System (HRIS) technology they need to leverage the HR function as a key business driver. ECI® Empower solutions include Payroll Processing and HRIS, Reporting and Business Intelligence, Self Service, Benefits Management and Enrollment, Recruitment, Onboarding, Performance Management, Learning Management, and Time and Labor Management. Founded in 1996, ECI services clients ranging from 100-10,000 employees in virtually every industry, both publicly and privately held. ECI has earned several awards, but is most proud of its high retention rate. Learn more at http://www.ecipay.com or call 800-320-9530.
For additional information, please contact:
Leanne Phillips
Director of Marketing
Electronic Commerce, Inc.
2810 Dexter Drive
Elkhart, IN 46514
574-970-4400 x 154
lphillips(at)ecipay(dot)com