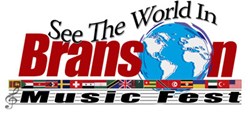 Branson, Missouri (PRWEB) January 31, 2014
See the World in Branson - No Passport Needed!
See The World In Branson is an annual Springtime event highlighting the vast amount of Internationally inspired entertainment, attractions, and cuisine available to visitors in the Branson area.
See The World In Branson allows visitors the opportunity to enjoy multiple cultural and international experiences in entertainment and tradition without having to travel abroad. It will be possible to experience most every continent and catch a glimpse of many various cultures within a single visit to Branson.
See The World Music Fest will be held on April 23 & 24 at the Welk Resort. Music Fest will feature a morning Marketplace allowing visitors the opportunity to meet Branson stars for autographs & photos as well as visit the various booths & displays from businesses throughout the community. A highlight of the Marketplace will be the Savor the Flavor stage where celebrity entertainers take their talents to the kitchen to square off in cooking challenges. A matinee show will be held inside the Welk Theater and will feature a sampling of 20 – 25 different Branson shows throughout the 2 days of performances.
An area wide International Festival is a perfect fit to for Branson. Already, entertainment such as the Acrobats of China featuring the New Shanghai Circus, Dublin's Irish Tenors & The Celtic Ladies, Shoji Tabuchi, the Liverpool Legends, Yakov Smirnoff and others bring the presence of Internationally acclaimed entertainment to the area. With this festival, other area venues will be allowed the opportunity to highlight the origin of their own culture or a culture that they find interesting.
See The World In Branson's Music Fest and Savor The Flavor are two of the special events that are held annually during Ozark Mountain Spring. Branson is known as the Live Music Show Capital of the World, it's our wish that you See The World In Branson - No Passport Needed!
Event tickets can be purchased by contacting Branson Ticket & Travel. Packages are available for groups and individual travelers by calling 800-432-4202 or visit http://www.BransonTicket.com