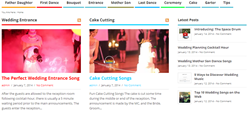 New York, NY (PRWEB) January 31, 2014
Wedding music is perhaps the most important element of a successful and memorable reception and in 2013 there was no shortage of wedding songs to select from. Seward Park Tech has compiled the top requests from couples and guests, and released a list of the most requested wedding songs of 2013. The list is organized by formal occasion such as the Wedding Entrance, Father-Daughter First-Dance and Last Dance to name a few, and contains link to view the music videos. Some notable mentions include the #1 Last dance song of 2013 "Marry You" by Bruno Mars, Tim Mcgraw – "My Little Girl" for the Father-Daughter dance and Beyoncé – "Single Ladies" for the bouquet toss. See the full list here.
"The year 2013 was filled with great wedding song selections, and this list will provide guidance to our couples when personalizing their wedding music", says Kieffer Ramirez President at Seward Park Tech. "The music is very important to our clients, and we maintain an organized database of every song ever played at weddings, a lot of that feedback is reflected in the Wedding Songs section of our website. If you have not visited and you're a music lover, you are missing out on a great free resource".
About Seward Park Tech:
Seward Park Tech is a DJ and Lighting company servicing the Tri-State area. Their Marquee DJs have years of experience spinning at the most elite night-clubs around the country, and the Lighting designers have designed the lighting and special-effects for numerous movies and theater productions around New York City. The lighting, special effects and music are combined to bring the magic of theater into weddings and other special events. Founded in 2010, Seward Park Tech has come a long way, earning dozens of 5-star reviews across the board and winning prestigious entertainment awards such as 'The Knot's Best of Weddings' and 'Wedding Wire's Bride's Choice Award.' Seward Park Tech is also a member of the very exclusive Style Me Pretty's Little Black Book and is one of the very few vendors found on the popular wedding website WeddingChicks. For more information, please visit http://www.w3ddingdj.com.