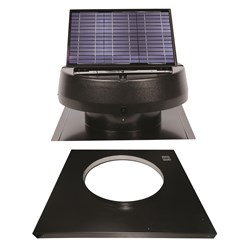 We are pleased to offer new products that allow for more diverse applications. We believe commercial application of our innovative products will allow us to continue our growth in this important market segment.
Incline Village, Nevada (PRWEB) February 02, 2014
U.S. Sunlight Solar Attic Fans and Skylight Tubes have been praised for the quality construction, effectiveness and innovation. For these reasons, U.S. Sunlight energy saving products are the choice for many contractors, remodelers, roofers and builders. As more professionals use U.S. Sunlight products for commercial projects because of the unique and innovative features, the need for curb mount applications to work with metal or flat roofs has become an important option. The innovative U.S. Sunlight curb mount design features an adapter that will convert current U.S. Sunlight roof mount solar attic fans and Spectrum Skylight Tubes to curb mount configurations. With the release of the curb mount adapters, more schools and other government buildings are now benefiting from U.S. Sunlight energy saving products.
The installation process using the curb mount adapter is as simple as ever. The curb mount adapter is designed to fit perfectly with the U.S. Sunlight 14" diameter Solar Attic Fans as well as with the 14", 18" and 21" Spectrum Skylight Tubes. The detailed installation instructions simplify the installation and U.S. Sunlight customer service representatives are available to help by calling 1-877-50-USSUN.
President of U.S. Sunlight Corp, Robert Buckley, states, "We are pleased to offer new products that allow for more diverse applications. We believe commercial application of our innovative products will allow us to continue our growth in this important market segment. Contractors using our products requested a curb mount system that would be easily installed and allow them to use more U.S. Sunlight products on all their commercial projects – and we answered! Call U.S. Sunlight at 877-50-USSUN or visit http://www.ussunlight.com for more information."