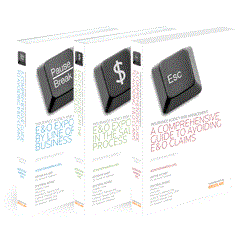 "We are very proud of our partnership with Thomson Reuters. Their support has been instrumental in AOA's providing the insurance industry with high quality E&O loss prevention information" says Curtis M. Pearsall, Executive Director of AOA Learning Center
Las Vegas, Nevada (PRWEB) February 11, 2014
West LegalEdcenter, a business of Thomson Reuters is pleased to announce special bundled pricing for the book series of Comprehensive Guide to Avoiding E & O Claims.
The three part book series offers expertise from top notch authors in the industry, bundled with continue education credits. Book Two which deals with the wide range of E&O issues relating to this sales process and addresses key issues that every agent needs to understand and be focused on is scheduled for publication in mid- May. Book Three is scheduled for publication in late November and includes the E&O exposures of 19 different lines of business.
All three books are the result of a collaborative effort of many of the industry top Agents, E&O experts and attorneys. It addresses many of the key issues in risk management, loss prevention, and litigation relating to claims against insurance agents and brokers. The books are intended to be a practical guide and resource that should be on the bookshelf of every insurance agent, broker, and underwriter, and of every attorney that litigates claims involving insurance professionals.
In addition, AOA Learning Center, in conjunction with WebCE, has been able to secure Continuing Education credits in 41 states, Book one is available now. Order now.
AgentsOfAmerica.ORG and Thomson Reuters is offering special pricing for the three part series the retail price for the three part series is $357.00, but with your order though AgentsOfAmerica.ORG the series is sold at $285.00 per series.
Customers interested in purchasing all three books in bulk, special rates are available:
$285.00 per series
100 copies 40% discount $171.00 per series
200-1000 copies 50% discount $142.50 per series
2000 copies 55% discount $128.25 per series
3000 copies 60% discount $114.00 per series
Customers interested in purchasing one series of the book, special bulk rates are available:
$119 per book
100 copies 40% discount $71.40 per book
200-1000 copies 50% discount $59.50 per book
2000 copies 55% discount $53.55 per book
3000 copies 60% discount $47.60 per book
"We are very proud of our partnership with Thomson Reuters. Their support and expertise has been instrumental in AOA's providing the insurance industry with high quality E&O loss prevention information," says Curtis M. Pearsall, Executive Director of the Agents of America Learning Center. "The goal of AOA is to make a difference and this special pricing will hopefully result in this 3 book series being in the hands of every insurance professional."
AgentsofAmerica.ORG is extremely grateful to its authors and editorial board for their support and expertise. In addition to E&O Insurance expert Curtis Pearsall, the members of the AOA's Editorial Board includes, Editor in Chief, Dr James Kallman of St. Edwards' University, Minneapolis E&O defense attorney Britton Weimer of Jones Satre & Weimer PLLC, Professor Andrew Whitman of the University of Minnesota's Carlson School of Management, Roy Little, President and CEO at Insurance Educational Association, Angelo J. Gioia Founder & Publisher of AgentsofAmerica.ORG, Matthew Marrone defense attorney with Goldberg Segalla LLP in Philadelphia and Frederick J. Fisher, J.D, Founder and current SVP of E.L.M. Insurance Brokers.
Companies, Agencies or Organizations interested in purchasing all three Books or who have questions about our Risk Management programs should contact Angelo Gioia at angelo(at)agentsofamerica(dot)org or Curt Pearsall at cpearsall(at)agentsofamerica(dot)org.
About AgentsofAmerica.ORG
AgentsofAmerica.ORG is an Insurance Association dedicated to the personal and professional growth of its Insurance Agents & Brokers members and their agencies and a indispensable resource for news, products, services, continuing education, and industry information throughout America The organization's mission is to deliver the BEST people, products, information, and services to agents all designed to help them manage and grow their business and provide ongoing value to their clients. In addition, it has become the number one resource for connecting insurance agents with industry professionals, support and guidance on Professional Liability Risk Management, Errors & Omissions Risk Management, Loss Prevention & Loss Control, Insurance Agency revenue building products and opportunities. Our motto is "Bringing the BEST Together." Visit AgentsofAmerica.ORG