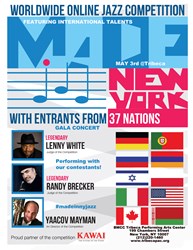 "It was great to hear such fantastic musicians from around the world."
New York, NY (PRWEB) January 31, 2014
After the first amazing year. With over 16,000 people registered to vote for their favorite performers from thirty-seven countries, the competition announces it's Gala Concert in New York. Featuring international talents that will perform together with Legendary Lenny White, Randy Brecker and the art director of the competition Yaacov Mayman on one stage.
The tickets are available for the Gala Concert
http://tribecapac.com/made-in-new-york-jazz-competition/
An explosion of interest has turned the competition into a jazz hub. The new platform's accessibility benefits fans and artists. Producers are scouting for talents. Musicians are enjoying a worldwide audience and getting more live gigs.
And the Winner is . . .
The world's online jazz competition announces that Italy's Anita Vitale takes first prize. Vitale's acoustic jazz performance of Jon Hendricks's "Centerpiece" with Bobby McFerrin registered countless online views and competition's committee choice before going on to become the unanimous selection of the Competition's judges, Lenny White, Joe Lovano, and Randy Brecker.
"We are proud to award the inaugural competition's first prize to Anita Vitale," said Misha Brovkin, founder of Made In New York Jazz Competition "Vitale's talent is boundless. The amazing performance and strong qualities she demonstrates in her video performance are exactly what it is so exciting about international jazz."
In addition to winning the entire cash prize of $3,878, Vitale will perform in New York with Randy Brecker and Lenny White at the Made in New York Jazz Competition Gala Concert at the Tribeca Performing Arts Center on Saturday, May 3, 2014, at 8.00PM (click here to get your ticktes).
Runners Up . . .
Second prize goes to Evgeny Lebedev's "World Trio" for their lively original composition, while third prize was claimed by the NGA Big Band from Germany for their rendition of Bob Brookmeyer's "The American Express." The second and third-prize winners take home the elegant KAWAI ES7 Portable Digital Piano and the powerful KAWAI MP6 Professional Stage Piano, graciously provided by KAWAI Musical Instruments USA—the future of the piano®—official partner of the Made in New York Jazz Competition.
An Amazing Year of Incredible Music
"It was an amazing year of incredible music," said judge Joe Lovano. "It was great to hear such fantastic musicians from around the world." Lenny White agreed: "It was remarkable because we found jazz talent from all over the world interpreting it their way." "There were many great entries," said Randy Brecker, "which made it hard to pick the winners."
In only one year, madeinnyjazz.com has since become an international jazz hub for fans, musicians, enthusiasts, recording producers, and the international jazz media to discover young talent that was formerly only regionally known. Made in New York Jazz Competition has provided a forum, through its high-traffic website, for showcasing rich and diverse jazz talent to the entire world.
"Our online competition has shattered geographical barriers," says madeinnyjazz.com creative director and Gala Concert performer Yaacov Mayman. "Our first competition was a resounding success. I can't wait to see next year's video performances."
http://www.madeinnyjazz.com
http://www.facebook.com/madeinnyjazz
http://www.twitter.com/madeinnyjazz