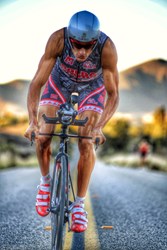 Portland, Maine (PRWEB) January 31, 2014
For those looking to get into shape and stay in shape, Quest Cycle has been a staple in Kennebunk, Maine. Spinning and cycling classes help people push themselves and spend time with other like-minded individuals doing the same. This Saturday, February 1st, 2014, Michael "Michi" Weiss will be hanging out at Quest Cycle.
Visitors can get to meet and speak with Weiss, get an autographed picture, and get tips of preparing for their next triathlon. Weiss recently won the Ironman title in Cozumel, Mexico last December. While available during each of the four classes being held this upcoming Saturday, Weiss will only be riding with the 9:30 am class.
Weiss is currently prepping in the Melbourne Ironman contest next month and has taken the time out of his schedule to hang with us while he gets an extra workout in. Currently, he hokes to set a world record during the bicycling portion of the Kona World Triathlon Championship which will be held later this year in Hawaii.
Being able to help people set goals, achieve them, and push for more is one of the most rewarding parts of being part of the Quest Cycle team. Staff members here love seeing their customers pass beyond the limitations they thought they had and then yearn for more. Helping people stay in shape and even get into shape, there is training for users of different skill levels. There are also a number of classes scheduled throughout the week to fit in even the most demanding of schedules.
If someone has not yet been to Quest Cycle to see everything they have to offer, now is the perfect time. Meet a true athlete who lives, eats, and breathes by staying in shape and pushing themselves to the very limits. It is both exhilarating and inspiring. For more information on tomorrow's events, visit the Quest Cycle website or give them a call at (207) 541-9441.