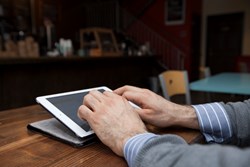 "The best companion for your iPad"
Portland, OR (PRWEB) February 03, 2014
Say goodbye to the same ol' same ol' iPad case. WynLABS™ has launched a new product that turns the iPad case, as you've known it, upside down. DuCase™ will make your iPad astonishingly more comfortable to use and you will wonder how you ever got along without it.
What makes DuCase so unique and innovative is its patent-pending friction hinge design. The hinge is attached to the back of the protective hard shell and offers an overwhelming 270° of rotation. You will have unlimited viewing positions and can set your iPad to any angle for more ergonomic screen manipulation.
If you watch movies in bed or like to surf the web while lying on your couch, this product is perfect for you. The back cover and hard shell will form a stable V-shape so you can rest the iPad on your knees or stomach. This elevated position allows you to view your iPad without the worry of neck or back strain.
DuCase will also come with other standard features for an iPad case. It has a protective polycarbonate hard shell, auto sleep/wake magnet and an elastic band to hold the case closed when not in use. DuCase is available for iPad 2/3/4, iPad Air and iPad Mini.
WynLABS is raising funds for their DuCase iPad case through Kickstarter campaign with special pre-release pricing: https://www.kickstarter.com/projects/wynlabs/ducase-the-most-functional-ipad-case-ever
For more information visit http://www.WynLABS.com
DuCase image gallery available at http://www.WynLABS.com/gallery.html