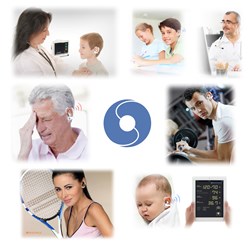 Personalized and safe coaching - should be the objective for the Telehealth industry.
Biel, Canton of Bern, Switzerland (PRWEB UK) 2 February 2014
With introduction of its SensoTRACK (http://www.sensotrack.ch) and SensoSCAN products Sensogram Technologies AG (Sensogram) is addressing the needs of three main market segments, which are growing with a faster pace then the Tele-medicine, Mobile-health, Tele-health and Preventive E-health industries are offering today. Sensogram's plan is to become a provider of products and services that can help people to improve their wellness by being 'coached' in a personalized manner, being that the health, activity and/or the lifestyle. It is very important to promote the activity monitoring in general (for example the news release by MobiHealthNews "Qualcomm taps Shaq to promote Fitbit; Nintendo eyes healthcare" from January 30). However, making it personalized and complete, as well as accurate - perhaps isn't of a less important aspect in providing a quality health or wellness services.
The three mentioned market segments addressed by Sensogram are:
1. Health Conscious Individuals and Athletes.
The global market for accessories with embedded health-monitoring sensors is expected to grow to 170 million devices by 2017 (source: GigaOM Pro). Advances in materials, battery power, augmented-reality systems and computer chips are expanding the products' functionality but the entry of technology giants Google, Microsoft and Apple is also playing a major role in the anticipated industry growth rate that ABI Research puts at 41% per year. Some reports even raise the possibility of wearable health IT replacing smartphones over the next decade. Wearable devices today already can do much of what a smartphone can do.
2. Inpatients and Outpatients.
The combined global telemedicine device and software markets has reached a turnover of $843 million in 2012 and is anticipated to reach $2.9 billion by 2019. M-Health markets related to telemedicine currently at $1.4 billion are anticipated to reach $1.5 trillion by 2019 due to the use of 7 billion smart phones and half that many connected tablet devices all over the world. Home patient monitoring means two things: the imminent rise of the expert patient whom the health authorities anticipate would self-manage his long-term medical conditions and the prominence of mobile devices as the go-between for clinicians and patients. Clinical telemedicine services converge with M-Health systems of engagement to lower cost of care and improve quality of care. Telemedicine and M-Health market convergence driving forces relate to an overall trend toward ordinary people taking more responsibility for their own health.
3. Home Health and Nursing Homes.
As the market transitions from safety-focused offerings toward health monitoring and extending and enhancing the comfort, safety and well-being for seniors living in their own homes and care homes, monitoring devices will grow to more than 36 million units in 2017, up from under 3 million units in 2011 – a compound annual growth rate of 55.9 percent. Over the same period, home monitoring will almost double its share of the wearable wireless device health market to 22 percent up from 12 percent (source: ABI Research).
Sensogram's approach is to combine the vital signs monitoring, activity tracking, geolocation-prompted information, and the personal information in an integrated manner. Processing of all the data with the correlative analysis - is the next step for the company.