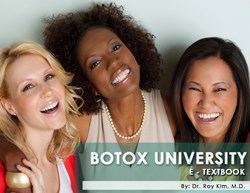 An educated consumer is most likely to achieve the best, most individualized treatment.
San Francisco, California (PRWEB) February 13, 2014
Finally a book for the cosmetically adventurous, containing more about Botox than just the product, verb, and way of life. Despite negativity about Botox in the media, there's a reason it's America's fastest growing medical cosmetic procedure: it can yield unbelievable results.
San Francisco's Dr. Roy Kim says, "Misinformation about Botox can really cultivate fear and avoidance, which is too bad, because I've watched so many patients light up with joy when they see the pleasant difference Botox makes. With the right injector, it absolutely takes looking your best to the next level."
In his newest book, Botox University, Dr. Kim gives the low down on Botox. This informative read goes way beyond brochures and FAQs, yet remains easy to understand. From the basics to the practical facts only a doctor could know, Botox University truly educates.
"I've heard every myth, and fielded every question out there. I wrote this book to empower any-one considering a Botox procedure. An educated consumer is most likely to achieve the best, most individualized treatment."
Written in an engaging and beautiful ebook, Botox University will help the reader:

Learn about the potential of Botox;
Determine if Botox is the right choice;
Become familiar with the way Botox is dispensed;
Understand how long Botox will last;
Have insider knowledge and get the best Botox results.
Botox is one of the biggest cosmetic breakthroughs in a generation, and works like nothing else to gracefully eliminate facial wrinkles and reveal unique beauty. Maybe the best Botox proce-dure is the one that nobody knows about. Botox University, is how to get in on that secret.
Botox University is available for free at http://www.drkim.com/botoxuniversity, http://www.botoxuniversity.com, on the Amazon Kindle Marketplace, and in Apple iBooks.