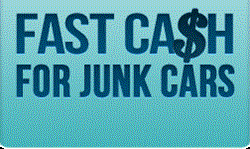 New York, NY (PRWEB) January 31, 2014
Fast Cash For Junk Cars (http://www.fastcashforjunkcars.com), one of the country's most reputable and recognizable cash-for-junk-cars companies, is now announcing a new initiative to work with customers seeking to sell cars or other vehicles with blown, damaged or bad engines.
Many drivers, especially those living in harsh winter climates, may own vehicles with blown engines, or those having suffered some internal damage or malfunction that makes the vehicle undriveable and unsafe to operate. The repair costs associated with such problems oftentimes exceed the value of the car itself, creating a lose-lose situation for the owner.
Fast Cash for Junk Cars, recognizing this problem, offers to work with car owners in such situations through its car-buying program targeting cars with blown engines. The company, long known for its customer-friendly transaction process of buying junked vehicles, has expanded its business practices to cars with blown engines, regardless of condition. Per a new company directive, Fast Cash For Junk Cars will purchase any used car in any condition and agents may pay as much or more than $20,000 for certain vehicles. Whether a vehicle has been in an accident, is completely damaged or an owner is simply looking to get cash for an old car to pay for a new one, Fast Cash for Junk Cars has mandated that its agents make cash offers for all vehicles.
Many potential sellers face a similar dilemma - when trying to sell a used car, the typical process involves haggling over prices, creating listing on various websites, fielding phone calls, text messages, and/or emails. Fast Cash For Junk Cars aims to streamline the process and strives to provide customers with a tow-away pick-up and cash-in-hand within 24 hours of a customer making an initial call.
--
About Fast Cash For Junk Cars
Fast Cash For Junk Cars is one of the nation's leading cash-for-cars companies accepting vehicles of all makes, models, and conditions. The company buys cars of all types, even if it's totaled, flood-damaged, or is missing its title. The company takes pride in providing top-dollar appraisals and free towing services.
For more information about the company and their service, visit their website at http://www.fastcashforjunkcars.com/.