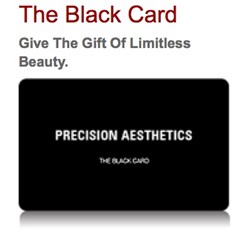 (PRWEB) January 31, 2014
The Precision Aesthetics Black Card acts like a debit card, which can be loaded with up to one hundred thousand dollars and has no expiration date. It can be used for all treatments and products. It is safer than cash because if is lost or stolen one can simply call for a replacement. Although some brave men will buy their significant other a series of treatments, many more will simply purchase our Black Card. Perhaps the reason is because the card is so flexible. In addition, buying a specific treatment like fat reduction or cellulite reduction has its obvious implications. That certainly takes a lot more courage, or requires an extremely honest and open relationship.
There are so many wonderful options for treatments and products at Precision Aesthetics. They were all carefully researched and chosen over the past ten years from all over the world by the medical director of Precision Aesthetics, Lisa A Zdinak, MD. Her background in molecular genetics and her training as an Oculoplastic Surgeon gives her the unique ability to sort through the countless treatments and products available worldwide. The end result is an impressive and comprehensive array of non-surgical and minimally invasive solutions that use various technologies and products. There are technologies to treat cellulite, stretch marks and loose skin anywhere on the body or the face. Other technologies can smooth out a jaw line, or lift the cheeks, on the face or the body. More specifically there is Acoustic Wave for cellulite, Thermage for skin tightening and loose skin. Exilis is primarily used for body contouring and fat reduction, while Illumiwave lipocontour excels at overall fat loss for active people. Among the more exotic offerings are SilkPeel vitamin dermal infusion, Cryotherapy facials and Ultrasound vitamin C facials. In addition, Carboxytherapy, from Brazil, is used for stretch marks and dark under eye circles. Finally there is a plethora of products carefully chosen from all over the world. The newest strategy for dark spots that inhibit its formation vs. bleaching can be found in Elure and lumixyl. Ultraceuticals, the leading Doctor dispensed skin care line from Australia, can be found in office and on line. The most recent addition is Sepai, custom formulations for the face and body, from Spain. Also offered online and in office is the Doctor's own skin care vitamin line, Genetiskin.
Precision Aesthetics is located at 10 West 74th St, steps from Central Park in a space that was designed by the Doctor herself for maximum patient comfort and privacy. Besides the normal business hours, Precision Aesthetics answers questions 7 days a week including nights and weekends.