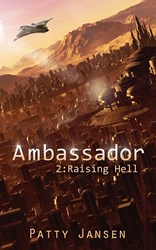 Hollywood, CA (PRWEB) January 31, 2014
Patty Jansen of Sydney, Australia, who was honored as a first place quarterly winner at the 27th Annual L. Ron Hubbard Achievement awards in April of 2011, has now released her 19th story, "Ambassador 2: Raising Hell."
Since her win two years ago Patty has released close to a story a month.
Patty's winning story in the Writers of the Future international contest back in 2011, "This Peaceful State of War," was published in L. Ron Hubbard Presents Writers of the Future Volume XXVII as a short story, and Patty re-released it just recently, but her most recent story is the second in a series.
"Raising Hell" is about Ezhya Palayi, who is the person at the top of the Coldi people's hierarchy. After having been released by his previous employers, Cory Wilson not only depends on Ezhya Palayi for his own income but he has developed an unusually friendly relationship with this man whom people on Earth would call an absolute dictator, but whose reign is benign. Ezhya Palayi goes missing because the system for interstellar travel goes down and this is when the adventure begins for Cory.
Immediately after winning Writers of the Future, Patty started selling short stories to Analog Magazine and has published short stories in Aurealis, Redstone SF and the Grantville Gazette.
To learn more about Patty, visit http://www.pattyjansen.com. For details on how to enter the contests, visit the website at http://www.writersofthefuture.com.