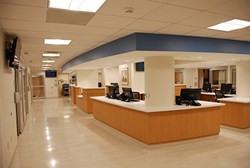 We are especially excited to complete the first phases of this project in time for HackensackUMC to serve as a medical services provider for the Super Bowl.
New Brunswick, NJ (PRWEB) February 01, 2014
Gilbane Building Company completed Phases 1 and 2 of the Hackensack University Medical Center Emergency and Trauma Center renovation and expansion project in time for Super Bowl XLVIII. One of three Official Medical Services Providers selected by the 2014 Super Bowl Host Committee, Hackensack University Medical Center is the closest trauma center to MetLife Stadium, and will act as an emergency services resource to care for Super Bowl visitors to the area.
"We recognize the importance of this facility. All of us at Gilbane are proud to play a part in helping Hackensack University Medical Center realize their goal of providing the best possible care for this community." said John Fumosa, Gilbane's New Jersey district manager. "We are especially excited to complete the first phases of this project in time for HackensackUMC to serve as a medical services provider for the Super Bowl."
The phased construction schedule began in May of 2012 with the first phase of the project entailing the creation of a swing space and new patient treatment rooms. This was accomplished through the construction of a three-story infill within the existing three-sided courtyard framed by three existing buildings. This courtyard, referred to as the St. John Infill in this project, will continue to provide an open staff drop-off area on the ground floor which consists of 15,290 square feet of new patient treatment rooms. The St. John Infill also created shell space for future expansion of the medical center on the second floor. In addition to the St. John Infill, the existing ambulance entrance has been reconfigured and this created a new walk-in entrance for pediatric patients.
The initial phases of the Emergency and Trauma Center expansion features:

29 private patient rooms, complete with storage and sliding glass doors;
Five state-of-the-art trauma bays;
An increase in the ETC's footprint by nearly 20,000 square feet: accomplished by adding a three-story structure at the former St. John Drive turnaround on the ground floor and by reconfiguring the ambulance drive on the first floor;
A front-door presence for the Pediatric Emergency Department: accomplished by relocating its waiting and triage bays to a separate area;
A larger decontamination shower to better handle a major event, should one occur; and
A private EMS lounge to provide refreshments for the squads that serve our facility and community.
Once completed in March 2015, HackensackUMC's Emergency and Trauma Center will gain approximately 35,660 square feet of renovated area and 23,290 square feet of new construction, which will increase efficiency and offer state-of-the-art facilities to HackensackUMC's patients.
About Gilbane Building Company
Gilbane provides a full slate of construction and facilities-related services – from sustainable building to the latest in construction technology – for clients across various markets. Founded in 1873 and still a privately held, family-run company, Gilbane has more than 50 office locations around the world. For more information, visit http://www.gilbaneco.com.
In New Jersey since 1967, Gilbane has provided construction and project/program management services to a variety of market segments. Prominent clients in the New Jersey area include the Devils Renaissance, LLC; the New Jersey Economic Development Authority; County of Essex; Becton Dickenson & Co.; Rutgers University; and New Jersey Transit.