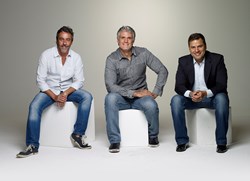 Miami (PRWEB) February 03, 2014
CP+B announced today that they have opened an office in Brazil, led by the creative team of Andre Kassu and Marcos Medeiros. They will be joined by industry thought leader Vinicius Reis who will direct operations and new business. Based in São Paulo, CP+B Brazil will work with clients in Brazil and globally. CP+B Brazil joins CP+B's other offices in Los Angeles, Boulder, Miami, London and Gothenberg, Sweden.
Over the past few years, Kassu and Medeiros have been among the most highly awarded and recognized creative teams in the world. In 2013 alone, the pair won 16 Lions at the Cannes Lions International Festival of Creativity, the most prestigious advertising awards festival in the world, for brands including VW, Bayer and Getty Images. The previous year, they won five Lions and in 2010, Andre Kassu was named Cannes' most awarded copywriter. Earlier in their career, as a copywriter and art director, the duo won an additional 12 Lions and received the Cannes Grand Prix in the Press category for their Billboard Magazine campaign. The campaign was also named "Most Awarded Press Campaign" by Creativity and brought in three Yellow Pencils at D&AD.
Kassu and Medeiros first teamed up in 2008 while working at AlmapBBDO. Since then, they have worked for an array of global brands including VW, Pepsi, Brazil's largest cosmetics company O Boticario, Bayer, Pedigree and the insurance company Bradesco Seguros. The "Poder ser" campaign they created for Pepsi helped the brand increase sales to their maximum production volume as well as wining the Grand Effie at the Effie Awards. Their most recent work includes two campaigns for VW, including "The Last Wishes" for the final edition of the iconic Kombi car, and the launch of Up!, a highly anticipated car for Brazilian consumers.
The third partner at CP+B Brazil is Vinicius Reis who will manage all operations and lead new business. He comes to CP+B Brazil from Agencia We. As a partner there, he played an integral role in moving the agency from 36th to 22nd ranking (IBOPE Media) in a little over 9 months. Vinicius has had an impressive career in advertising moving from Brazil to the US to work at DDB Latin American and then running Unilever NA at Lowe, NY. He returned to Brazil to become CEO of Havas Digital and then held a senior role at Grupo abc. Throughout his career, he has worked with many blue chip clients, including P&G, ExxonMobil, J&J, Super Bonder, BBVA Bank, Inbev, Sharp, XM Radio and Itaú (Latin America's largest private bank).
"It's a huge honor to import CP+B's legacy to Brazil and to partner with them around the world. We've been enormous fans of the agency for many years," said Medeiros and Kassu. "The world is changing. And we share CP+B's passion for pushing the boundaries, breaking convention, and finding new ways to make brands a part of popular culture."
"It's no secret that Brazil is an emerging economic powerhouse – it's exciting, sexy and bursting with talent," said Chuck Porter, Chairman of CP+B. "And if we had started from scratch, we couldn't have created better partners than Kassu, Marcos and Vinicius. There are a handful of creative teams in the world who have consistently produced work so brilliant that it explodes in the marketplace and transforms brands. Luckily for us, one of those teams is now called CP+B Brazil."
About CP+B:
CP+B, a member of the MDC Partners network, has a client list that includes KRAFT, Mondelēz International, Domino's Pizza, MetLife, Applebee's, Charles Schwab, Fruit of the Loom, Turkish Airlines, Paddy Power and Best Buy. CP+B's employees collaborate across six factories: Boulder, Miami, Los Angeles, London, São Paulo and Gothenburg, Sweden. The agency is one of the most-awarded in the world, having been named "Agency of the Decade" by Advertising Age and "Agency of the Year" 13 times in the trade press. CP+B has won more Grand Prix awards at the Cannes Lions International Advertising Festival than any other agency in the past 15 years, and is the only agency to have won the Titanium Grand Prix two times.
Please visit us: http://www.cpbgroup.com
Follow us on Twitter: http://www.twitter.com/cpbgroup
Join us on Facebook: http://www.facebook.com/cpbgroup