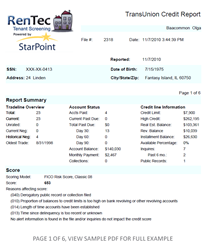 It is all about making the day to day chores of property managers easier
Grants Pass, OR (PRWEB) February 28, 2014
Rentec Direct, maker of leading property management software announces streamlined tenant credit and criminal background validation service. Rentec makes it faster and easier than ever for landlords and property managers to properly screen prospective tenants. Tenant screening with Rentec is now very simple, they've partnered with leading credit and criminal databases to provide direct access to credit and criminal reports instantly. In just seconds, a property manager knows the complete criminal, credit, and eviction history of any prospective tenant and is then able to make a fully informed decision on whether that tenant is going to meet their criteria.
Rentec only requires the absolute minimum information about a tenant, which is easily procured on the rental application form, and is able to use that information to search hundreds of millions of potential records and provide the matches back to the manager. Other tenant screening solutions require tenants to call or login to a website to approve or complete an order, Rentec doesn't.
A very useful feature, incorporated into many of Rentec's popular background products, is an address history match. When a SSN is provided, any time that tenant has had any utility or credit in their name it is logged. Those addresses are matched with potential criminal database hits to provide the most accurate list of valid matches back to the manager in record time. Other services may not filter the results and often provide dozens or even hundreds of false positives, which can in some cases take hours to wade through. Rentec eliminates all the hassle of screening tenants by making it the easiest option available.
The most popular reports have become even better, and are returned even faster. With exclusive arrangements with credit services and key nationwide criminal database vendors, Rentec provides instant real-time access to the most popular and widely used data. Credit reports provided by Rentec include the FICO score as well as the credit history of the tenant. Criminal reports provide the most comprehensive nationwide coverage, and eviction results are also instant and provide data from all 50 states.
Please check out there updated tenant screening video to see just how easy it is to screen tenants.
"It is all about making the day-to-day chores of property managers easier," said Nathan Miller, President of Rentec Direct. "This is just one of many features Rentec offers which improve a property manager's operation and saves them time."
To learn more about Rentec Direct or to obtain a 30-day full featured free trial of the software, visit http://www.rentecdirect.com/.
About Rentec Direct
Rentec Direct provides cloud based rental software solutions for property managers and landlords. Other popular solutions offered by Rentec Direct include tenant ACH payment processing and tenant screening, and online syndication of vacancies to more than 20 popular websites.