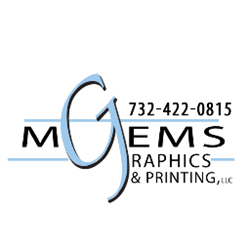 MGEMS Graphics & Printing is a one stop solution for all your marketing needs.
New Jersey (PRWEB) February 04, 2014
MGEMS Graphics & Printing is now offering one thousand business cards printed for only $39.99 every Monday and Tuesday. This could be a smart investment for any business looking to advertise a trade, provide map to a business location or increase promotion. MGEMS offers high quality designs with business cards that can deliver credibility for a business combined with quality and convenience at a low cost.
With 25 years of marketing and design experience, MGEMS Graphics and Printing LLC is any businesses' one stop solution for all marketing needs. MGEMS' team of experts consists of educated cutting edge graphic designers, marketing and management level personnel who pride themselves on a job completed with style, originality and class. MGEMS Graphics and Printing's focus is to bring a client's vision to life and assist the customer's business with quality and informative service, quick turnaround time and outstanding designs that will capture the target market's eye.
MGEMS Graphics offers the customer price match guarantees, dedicated customer reps and additional services like promotional items, variable data printing and top quality graphic design quality for any product or advertisement From short run digital to large volume offset to personalized promotional items, MGEMS' print production line is ready to meet any businesses' needs. With all printing done in house or with trusted partners, MGEMS can guarantee the customer the highest quality designs to represent your business in the best manner. MGEMS utilizes the highest quality paper and card stock, 100lb Glossy Text, 12pt, 14pt or 16pt UV coating full color printing to produce each print for the best visual impact. MGEMS stands by the industry's fastest standard turnaround time of 48-72 hours. Using MGEMS printing will allow you to save money and time on your printing, while allowing you to focus more on the aspects of your business.
MGEMS is also partnered with the East Coast's leading Every Door Direct Mail companies to provide the customer with the highest quality design, printing and mailing services to eliminate hassle and maximize savings on every order. One on one customer care, dedicated account reps, quick turnaround and a list of professionals in the graphic design department allow MGEMS to shine amongst the competition. For more information contact graphics(at)mmgems(dot)net.