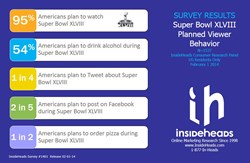 One in four Americans watching the Super Bowl will be Tweeting about it.
New York, NY (PRWEB) February 01, 2014
Just released, InsideHeads Online Marketing Research reveals results from a recent survey among Americans about their plans for Sunday's Super Bowl XLVIII.
While 95 percent of those surveyed plan on watching Super Bowl XLVIII, more than half plan to drink alcohol and/or order pizza while doing so.
Social media should be blazing hot during Super Bowl XLVIII, with more than two in every five viewers expecting to post on Facebook and one in five planning to Tweet during the game.
About InsideHeads
InsideHeads is a full-service market research company providing web surveys and online focus groups to clients across the globe since 1998.