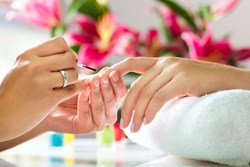 Burbank, CA (PRWEB) February 04, 2014
General and professional liability policies for nail salons are now being offered by USA Business Insurance. These valuable protections extend for claims made for property damage and bodily injury on nail salon premises as well as errors and omissions claims made by the nail technicians. While the two policies have some similarities, there are some major differences. Together, they provide as comprehensive a liability business insurance plan that's available on the market today.
For example, if a patron injures themselves in your shop, the general liability will pay out for all costs related to that injury including all medical bills. It will also pay for all costs incurred from a legal defense against a claim, if needed.
Professional liability is a little different. It pays out on claims related to any mistakes or omissions that a covered person makes. Covered individuals extend to anyone related to the business including owners, technicians and family members as long as they are performing nail salon related duties. These risks are not covered by a general liability policy.
"While general liability is a typical insurance for a nail salon, professional liability is not quite as common. That's why we are offering both programs—to reduce coverage gaps in the manicure, pedicure and nail care business," said a spokesperson at the Burbank, California based USA Business Insurance. "Any exposure (and there are plenty for nail salons) not covered, could lead to a claim that could cripple the business financially."
With these two insurance programs in place, the nail salon proprietor can focus on growing the business.
About USA Business Insurance
The professional liability and general liability insurance programs offered by USA Business Insurance are specifically tailored for nail salon proprietors. The company also offers discounts, great rates and flexible payment plans for their liability insurance programs.
For more information, click here.