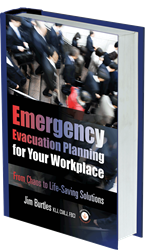 "Your life may depend on your workplace having these 7 essential components in a tested, practiced Emergency Evacuation Plan."
Brookfield, CT (PRWEB) February 28, 2014
Inspired by the horrific evacuation challenges of 9/11, Jim Burtles, a international expert in emergency planning, spent 10+ years researching global best practices for getting people of all ages and health conditions safely out of workplaces of every kind – including skyscrapers, industrial plants, schools, retail stores, and theaters.
In his new book Emergency Evacuation Planning for Your Workplace from Rothstein Publishing, Burtles reports that many new safety laws have been mandated since 9/11, but he cautions that some workplaces are still not up to standards given the frequent headlines about worker injuries and deaths during disasters in the U.S. and around the world.
Looking around the building and talking to managers charged with emergency evacuation responsibilities are good ways to see if a workplace complies with these 7 basic evacuation necessities. Everyone's life may depend on it!
1. One Leader Designated and Known by All as the "Single Point of Responsibility." One manager – often in facilities management, safety/security, or HR – should be accountable for the safe and orderly evacuation of everyone, including visitors. This manager coordinates and executes a detailed, practiced evacuation plan that is much more comprehensive than a typical fire drill. The plan should include personalized evacuation plans for any person with disabilities or specific health conditions.
2. Trained "Floor Marshals. " Clearly identified, preferably by their displayed yellow vest, trained "marshals" should be on every floor to guide and assist so that all employees, old and new, know who they need to follow in an emergency.
3. Well Marked Exit and Escape Routes. All exits and escape routes should be clearly marked, uncluttered and unlocked with no storage boxes blocking hallways or exits. One college was startled to find that double doors to an auditorium had been chained shut to keep students from entering a side entrance from the parking lot.
4. Multiple Safe Assembly Areas and Procedures to Account for Every Person. Easily accessible assembly areas for both employees and visitors, are often numbered locations set up in parking lots with specific employees assigned to each. Managers should use tested procedures to continuously monitor their area and any missing persons should be quickly identified and tracked down.
5. Protected Exit Points So No One Gets Injured by Falling Structural Parts. All crticial exits should be those already protected by an overhang or covered entrance/walkway to shield evacuees from falling masonry and other debris as they leave the building.
6. Regular Testing and Rehearsal of the Company's Evacuation Plan. Practice, practice, practice is the way that responses become life-saving routine. Some organizations stage unannounced, life-like emergencies, coordinated with local first responders, to assess performance under a perceived threat.
7. Targeted Emergency Messaging Systems. An organization's system, which may include social media, must ensure that everybody is immediately aware of an emergency situation and is instructed how to respond in real time, whether it's a shooting, fire, or other crisis.
Jim Burtles is the author of a new book Emergency Evacuation Planning for Your Workplace: From Chaos to Life-Saving Solutions, published by Rothstein Publishing. An internationally recognized expert in business continuity and emergency management, he has provided guidance in 90+ disasters and 200+ emergencies in more than 24 countries. Burtles is a founding fellow of the Business Continuity Institute and was awarded BCI's Lifetime Achievement Award in 2001.
Emergency Evacuation Planning for Your Workplace is available from Amazon.com
Rothstein Publishing is a premier source of books and learning materials in Business Continuity, Disaster Recovery, and Emergency, Risk, and Crisis Management. Industry-leading authors provide current, actionable knowledge, solutions, and tools that can be put into practice immediately. The company's commitment is to teach organizations how to be ready and able to protect, preserve and recover their most important assets: people, facilities, finances, and reputation.