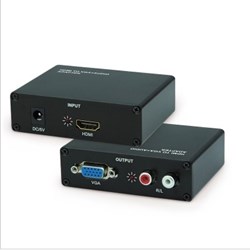 (PRWEB) February 05, 2014
Recently, Hiconn Electronics, a trend setter and market leader in high end electronics devices, has released its new assortment of HDMI to VGA+R/L Audio Converters. To top it all, all new and old clients can buy the new converters at promotional prices.
As a matter of fact, all the newly released converters are CE, FCC, UL and RoHS approval. What's more, the company offers a free one-year replacement and lifetime warranties for all its products. In 2014, Hiconn Electronics will manufacture more versions of HDMI converters.
The detailed information about the new HDMI to VGA+R/L Audio Converters from Hiconn Electronics is as follows:
--Easy to use, installs in seconds, no settings and it is a resolution pass-through converter
--Purely for conversion between video formats but not convert the input/output video resolutions
--Audio output format: 2 channel LPCM
--Compliant with HDMI 1.3
--Support HDCP 1.2
--Supports 165MHZ/1.65Gbps per channel (6.75Gbps all channel) bandwidth for HDMI Input
--VGA resolutions:640 x 480@60Hz, 720 x576@50Hz,1280x720@50/60Hz, 1920 x1080@50/60Hz,800x600@60Hz, 1024 x768@60Hz.
--Convert an HDMI® signal from a Blu-Ray player, PS3, or other HDMI-enabled source to work with an analog VGA display
--Convert a DVI or HDMI signal from a desktop or notebook video card to work with an analog VGA display / projector
The CEO of the company stated that these new items are specially made for the global market. Hiconn Electronics has a pool of experts who can always make customer-oriented products at affordable prices. It has thousands of diverse clients dwelling in various parts of the world.
About Hiconn Electronics
Hiconn Electronics (Shenzhen Hiconn Electronics Co. Ltd.) is devoted to designing and manufacturing a wide range of connection cables and customized cable assemblies, offering many HDMI cables, VGA cables, SATA cables, USB cables, 1394 cables, DVI cables, SCSI (Small Computer System Interface) and more. For more information, please visit http://www.hiconn.net/.
Contact Person: James Yin (Sales Director)
Company Name: Shenzhen Hiconn Electronics Co., Ltd.
Address: Shenghua Building., Xixiang Road., Baoan District, Shenzhen, Guangdong Province, China
Zip Code: 518102
Tel: +86-755-8109 8345
Fax:+86-755-2779 3497