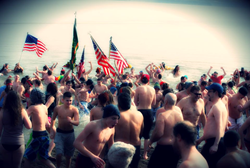 The community is the reason for the success of the Stony Point Seals.
Stony Point, NY (PRWEB) February 28, 2014
The Stony Point Seals, a registered 501(c)3 Charity, successfully hosted the 15th annual Polar Plunge by the Hudson River Seawall in Grassy Point, on Sunday February 2nd. The event started at approximately 10 am in the morning, and featured over 200 younger and older participants immersing into the icy waters for up to five minutes.
Music was provided by the local band Jillian and Sean, along with support by bassist Tom Chianelli and drummer Tom Ossa - a Stony Point Seals member.
The Seals have been organizing this event in Stony Point since 1999. By 2003, the event grew to 50 participants and many more spectators. Over the past decade, the annual tradition among several longtime friends grew into a way to raise money for local families that had difficulty meeting medical expenses for their children.
This year's recipient of funds was Olivia Barron, who was born and diagnosed with CHARGE Syndrome. It is a genetic condition that causes children to have several medical and physical difficulties. The Stony Point Seals asked for the local residents' support to help this child and her family with medical expenses.
Last year, the Seals raised over $35,000 for community members that were affected by Hurricane Sandy. In conjunction with the North Rockland Business Alliance, awareness of the event was spread through social media channels, and the event was attended by well over 1000 people.
The Towns of Stony Point and Haverstraw provided resources for the smooth operation of the event, and Rockland Web Design again provided video recording of the event.
For more information, please contact John Fox of the Stony Point Seals at 646-529-0762.