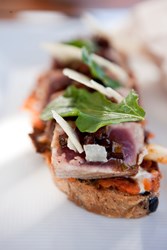 "A core pillar of our brand is to celebrate the essence of place in each resort location and enable our guests to experience a cultural connection with each destination," said Mark Harmon, Managing Partner of Auberge Resorts.
Mill Valley, California (PRWEB) February 04, 2014
Auberge Resorts announced a new collection of 2014 Food of Place culinary experiences at each of its luxury properties throughout North America. Each resort will offer a year-long series of one-of-a-kind culinary adventures inspired by the culture, flavors and culinary traditions of the resort's regional setting.
"A core pillar of our brand is to celebrate the essence of place in each resort location and enable our guests to experience a cultural connection with each destination – from the Rocky Mountains to the beach in Baja," said Mark Harmon, Managing Partner of Auberge Resorts. "Our Food of Place experiences elevate that message in a tangible way that our guests will certainly appreciate."
Each resort – Auberge du Soleil, the Auberge Residences at Pronghorn, Calistoga Ranch, Esperanza, Hotel Jerome, Malliouhana, and Solage Calistoga, will offer monthly culinary experiences and learning opportunities throughout 2014. Highlights include:
SPRING:
Marrakech meets Napa Valley
Palais Namaskar, an Oetker Collection Resort, will partner with Auberge Resorts to kick off the season with a three-day collaborative event with the three Auberge Chefs in Napa Valley and
Executive Chef Antoine Perray from Palais Namaskar in Marrakech, Morocco. Guests will have the opportunity to stay at one or all three Auberge resorts as part of a culinary package.
Day One will feature a mezze reception and dinner at Auberge du Soleil, where French Moroccan meets California cuisine. Kris Margerum, Wine Director for Auberge du Soleil, will pair wines from both regions to the mezze reception and five-course dinner. Palais Namaskar Executive Chef Antoine Perary will collaborate with Auberge du Soleil Michelin-starred Chef Robert Curry to prepare a multi-course celebration of French Moroccan and California cuisine that will showcase the unique and distinctive ingredients from Morocco and Northern California.
Day two will be an afternoon of cooking at Solage Calistoga with Chef Perray and Michelin-starred Solbar Executive Chef, Brandon Sharp. At this interactive event, guests will create their
own tagine to be finished by the culinary team and served for dinner in Solbar. Guests will be given their tagine to take home, compliments of Le Creuset.
Day three will feature a gala dinner celebrating an evening in Morocco in the Wine Cave at Calistoga Ranch, which will be transformed into a Moroccan tent, complete with belly dancers, spices, argan oil and fresh vegetables from the area. Chef Perray will collaborate with the culinary teams at all three Auberge resorts in the Valley on an elaborate menu of Moroccan and wine country dishes.
Also happening in Spring 2014:
Calistoga Ranch: Guests will join Beekeeper Rob Keller of Napa Bee Company, Landscape Manager Steve Ferrini, and Executive Chef Ojeda in the Ranch's Secret Garden for a Backyard Beekeeping Class. Guests will learn how to harvest their own honey while Chef demonstrates how the honey at Calistoga Ranch compliments his favorite dishes. (Month of February)
Earth Month (April) kicks off with the Annual Garden Party in the Secret Garden and the arrival of the Baby Doll Sheep, who help keep the garden weeds low. Guests will learn tips about growing the best fruits and vegetables from the warm Napa Valley climate as well as ways to reduce their carbon footprint.
Hotel Jerome, Aspen, Colo.: The ski season's grand finale: Aspen's ultimate party will take place at the Ice Bar in the Après Ski Garden in April. Guests will be invited to sip Roederer and hang out with the locals.
Esperanza, Los Cabos, Mexico: Children will be invited to join Chef Gonzalo Cerda in a one-hour class where they will hand craft chocolate eggs or "cascarones" and decorate them with toppings and candies. A part of the Mexican culture, cascarones are confetti eggs filled with small toys or goodies prepared to celebrate the spring season. (Month of April)
Auberge du Soleil: "California Delta Asparagus" Guests are invited to experience the first green crop of the season and learn a few of the most basic ways of cooking this springtime treat. (Month of May)
Pronghorn, Bend, Ore.: "Learn From Scratch" Kids Cooking Class: Executive Chef Kevin Linde will lead this class, designed to get kids in the kitchen by utilizing the bounty available in the produce of Central Oregon. Chef Kevin will make a simple meal using produce acquired by local farmers. (Month of May)
SUMMER:
Calistoga Ranch: "Localvor Exploration" Guests will spend the morning with Chef Aaron Meneghelli at the Farmer's Market to collect the fruits of the region. Guests will return to the kitchen to prepare a self-designed, multi-course feast using the locally sourced, gathered ingredients. (Month of June)
Auberge du Soleil: "Poolside BBQ" – Guests will join Executive Chef Robert Curry for a poolside "backyard" barbeque. The Executive Chef Robert Curry will bring his home style cooking "a la Auberge du Soleil" to a cabana with food sampling, a barbeque demo, and his favorite "poolside wines" in July.
Esperanza: Guests will learn how to make The Spa at Esperanza's famous "aguas frescas" – healthful Mexican beverages prepared with indigenous Mexican fruits, vegetables and desert plants. Spa Director Jose Ramon Garcia will also share the various health benefits of aguas frescas, which include digestion support, rehydration, burning fat and providing energy boosters. Mexican flavor combinations include: Cantaloupe Horchata, Aloe Vera and Prickly Pear, Watermelon Ginger, Mexican Cinnamon Chocolate, Coconut Rum, Rice Pudding, Guava, Cucumber Chile Pepper and more. (Month of June)
Hotel Jerome: July 4: Summer of Riesling Pool & Pig Party – guests will enjoy barbeque from Executive Chef Rob Zack by the newly redesigned pool.
"Fight Club" - a wine pairing competition between two local sommeliers.
Pronghorn: Juniper-Cured Salumi Class: Executive Chef Kevin Linde is steadfast in quest his for local ingredients and housemade products. Guests may join Chef Linde as he combines both passions by utilizing the local juniper tree as a tool in the preparation of his housemade salumi. (Month of June)
Solage Calistoga: For the Love of Lemon: Guests are invited to join beverage director and sommelier Scott Turnbull on a spirit class to learn about the variety of luscious limoncello cocktails for those hot summer nights. (August 13, August 24)
FALL:
Calistoga Ranch: Oktoberfest – Napa Valley Style: Guests will see that the valley isn't just about the wine. Napa Smith Brewery is well known for creating award-winning beers that are "brewed for food" and have as worthy of a place on the dinner table as a bottle of fine wine. Guests may join Napa Smith's Brewer as he guides a wonderfully refreshing tasting of his acclaimed drafts.
Apple Harvest: Apple Cider conjures up memories of wood burning stoves and cheerful celebrations. Guests may celebrate Napa Valley's Apple Harvest with a homemade apple cider class in perfect time for approaching cold evenings. Guests will learn techniques for the perfect blend and enjoy in front of the fireplace for a relaxing afternoon. (Month of November)
Hotel Jerome: September Afternoon Tea and Fashion Show: An introduction to the world of tea. The accomplished culinary team at Hotel Jerome will create tea time snacks with a unique twist, and a tea "sommelier" will guide guests through the experience.
Pronghorn: On October 4, Chef Brandon Stockwell will take guests through the fabrication and preparation of one of Oregon's great products: Steelhead Trout. Abundant in the many streams that run throughout Central Oregon, Steelhead is a sea-run rainbow trout with a taste reminiscent of salmon. Chef Stockwell will share his personal tips and techniques to prepare this flavorful fish.
Pronghorn's hometown of Bend, Oregon has a well-deserved reputation as an epicenter of craft brewing. On October 17, guests may join the respected brewmasters of Bend's Goodlife Brewery as they present their craft beers to be perfectly paired with a multicourse menu designed by Executive Chef Kevin Linde.
Solage Calistoga: Keep It Calistoga Wine Class: Guests are invited on a tour with sommelier and beverage director Scott Turnbull of several stellar but not as well known small producers in the Calistoga AVA. (September 3, September 17)
Esperanza: Esperanza's head bartender will teach guests how to prepare signature margarita cocktails using fresh produce from Chef Cerda's organic herb garden. Guests will also receive easy recipes to recreate their favorite drinks at home. (Month of October)
About Auberge Resorts
Auberge Resorts is a collection of exceptional hotels, resorts and private clubs, each with a unique personality that assures a memorable guest experience. While Auberge Resorts nurtures the individuality of each establishment, all are characterized by a set of communal elements: intimate, understated elegance; captivating locations that inspire exceptional cuisine and spa experiences; and gracious yet unobtrusive service. Among the Auberge collection of distinctive properties are: Auberge du Soleil, Napa Valley, Calif.; Calistoga Ranch, Napa Valley, Calif.; Solage Calistoga, Napa Valley, Calif; Esperanza, Cabo San Lucas, Mexico; Hotel Jerome, Aspen, Colo.; the Malliouhana Hotel & Spa, Anguilla; The Auberge Residences at Element 52, Telluride, Colo.; and Pronghorn Resort, Bend, Ore., with several others currently in development. For more information about Auberge Resorts, please visit http://www.aubergeresorts.com/. Follow Auberge Resorts on Facebook at facebook.com/AubergeResorts and on Twitter at @AubergeResorts.