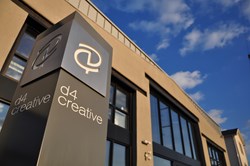 Once again, working with D4 as I had for many years while being at Comcast, saw our strategy and vision through to perfection
Philadelphia, Pennsylvania (PRWEB) February 17, 2014
D4, a full-service traditional and digital advertising agency, recently completed a campaign that included TV and radio spots, digital tactics, and other materials with the theme, "You've Got Veria." The campaign, a spoof on several genres of pharmaceutical ads, was aimed at creating awareness for the network, and helped solve a problem with consumers not knowing how to pronounce "Veria," (phonetically- veer-ee-ah.) Throughout the campaign, we hear doctors and other actors pronouncing "Veria" correctly.
Kurt Shore, President and Chief Creative Officer remarked, "Veria Living is a new network just gaining a foothold around the country as more distributors are carrying the channel. This campaign is fun, should create some nice buzz, and simultaneously solves a problem of pronunciation of the network's name."
D4 gained significant exposure to Veria Living after being named agency of record for the new wellness channel being launched throughout the United States. After creating a series of events, branded content, and a campaign that went viral internationally all centered around one ad about kegels, D4 recently produced a series of television and radio spots for the network with the theme, "You've Got Veria." Those spots can be seen here: http://www.d4agency.com/veria
The creative concept was developed in concert with Michael Snyder, the former CMO of Veria Living, to dispel any confusion about how to say "Veria." Research had shown that most people were not sure how to pronounce "Veria," hence, "You've Got Veria, " an obvious spoof on healthcare advertising, was launched.
Snyder commented, "Once again, working with D4 as I had for many years while being at Comcast, saw our strategy and vision through to perfection. Their strategic insight when combined with their creative know-how delivered the right campaign at the right time for the network."
The campaign continues to roll out nationally as cable providers launch the channel.
Andrew Struse, VP of Creative Services and On-Air Programming for Veria Living brought the campaign to life. David Lesser, Senior Creative Director for D4, headed up the agency creative team. Other elements included radio spots, digital and print ads.
The spots were shot in LA and directed by Rob Markopolis. All post-production was handled by D4's in-house motion graphics, editing, and audio facilities.
About D4 Creative Group
D4 is one of the region's most successful creative and branding advertising agencies and is located in the Manayunk section of Philadelphia. The agency is a certified Woman/Minority Business Enterprise (WMBE). Unique to the region, D4 Creative combines a full compliment of strategic, creative, and design professionals surrounded by robust in-house video editing, motion graphics, post-production, and audio suites. D4's clients include Penn Maid, ARI Fleet, Weinstein Bath and Kitchen, Veria Living, Pond Lehocky Stern Giordano, Espoma, Frontier Communications, Sandia National Laboratories, and Nuna. For more information, visit our website at http://www.d4agency.com.
About Veria Living
Veria Living is a 24/7 TV network dedicated to empowering people in their pursuit of natural wellness. Veria features engaging and entertaining lifestyle shows with an emphasis on healthy cooking, fitness, green living and eco-travel. Veria Living is committed to inspiring people to live healthier and more fulfilling lives through its TV programming, interactive lifestyle-focused website and premium all-natural product line.