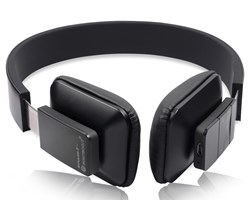 Rokit Boost Releases SWAGE 2 Bluetooth Headphones
New York, NY (PRWEB) February 04, 2014
Today, Rokit Boost announces an upgrade to its bestselling Bluetooth headsets, the SWAGE 2 Bluetooth headphones. These premier wireless capability headphones build on top of their predecessor SWAGE's high-grade audio features and ergonomic design. They are engineered to deliver the same exceptional listening experience, but with greater user functionality and comfort than before.
Exceptional Quality and User Value
Featuring a studio-quality playback capability and premier noise-cancelling technology, the SWAGE 2 gives listeners crystal-clear audio quality. A built-in microphone and Bluetooth capability enables a user to make hands-free calls or wirelessly jam out to his or her favorite tunes as if he or she were listening to them in-studio.
The SWAGE 2 provides up to 8 hours of high-quality audio playback, reportedly one of the longest playback durations offered on the mobile accessories market. In addition, the Bluetooth headphones feature two plush, highly comfortable headsets for greater consumer value.
Features and Benefits

Wireless compatibility with iPhone, iPad, Android devices, and any Bluetooth-enabled device
6 to 8 hours of playback time
High-quality, stereo music playback
Supports Bluetooth 2.1 +EDR
Sleek, ultra-slim body and strong base
Soft leather ear pads for extremely comfortable wearing
Enhanced functionality with 4.8mm brush metal part extendable headband
Easy-to-use design with special, multi-function button layout
Color: Black
1-year Limited Warranty
Great for Listening at Home or On-the-Go
The SWAGE 2 has been engineered with an ultra-thin, sleek body, making these headphones highly storable and taken anywhere with ease. The headsets are connected by a 4.8mm brush metal headband with easy extendibility for greater functionality. Additionally, a special, multi-function button design allows users to operate their Rokit Boost headphones with ease.
Commitment to High-quality Mobile Accessories
In line with its commitment to giving consumers high-quality mobile accessories at affordable pricing, Rokit Boost also offers a 1-year limited warranty on the SWAGE 2. The headphones are available for $64.99.
For a limited time, Rokit Boost is giving free samples of its new SWAGE 2 headphones to guest bloggers. All qualified guest bloggers are invited to visit http://www.rokitboost.com and request a free sample for review. After reviewing the SWAGE 2, guest bloggers may keep the battery case as a complimentary gift.
The SWAGE 2 can be purchased directly at Rokit Boost's website.
About Rokit Boost
Rokit Boost is a pioneer and provider of high-end, luxury mobile accessories. The company brings great value to mobile lifestyle consumers by offering accessories that markedly improve the user experiences of existing electronic devices.
Whether engineering iPhone charger cases, Bluetooth headphones, or wireless Bluetooth speakers/microphones, Rokit Boost's team leverages leading-edge technological improvements to enhance the usability of today's most popular mobile devices. Rokit Boost's first priority is giving its customers complete satisfaction, with a philosophy of great customer service, great prices, and, above all else, great-quality products.