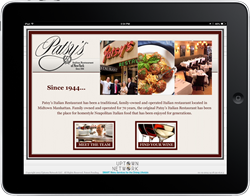 Frank Sinatra was at the forefront of technology in his time.
Super Bowl Boulevard, NY and Naples, FL (PRWEB) February 01, 2014
Patsy's Italian Restaurant of New York today announced that it has joined the Uptown Network. Frank Sinatra's favorite restaurant has gone mobile with iPad wine lists. iPad Wine Lists appeal to and attract affluent diners, such as people who attend events like the Super Bowl which is currently in town.
"Frank Sinatra was at the forefront of technology in his time," said Sal Scognamillo. "He was in radio, in the movies and on TV when it first came out. He embraced technology right when it happened to his and his audience's advantage. He understood the benefits of media and how it inspires society. The iPad wine lists are just the start of what I think will happen in hospitality."
By joining the Uptown Network, Patsy's provides guests a free mobile iPad app available for download from Apple's App Store providing guests a taste of the history and future of Patsy's. It's a very rich history that really came to life on an iPad.
Increasingly, hospitality venues are turning to 'S.M.A.R.T. Services' (Social, Mobile, Aware and Real-time) to enhance the guest experience. Just as Apple has empowered staff in their retail stores, leading hospitality venues are using S.M.A.R.T. Services to empower hospitality service staff.
"This is the grand dame of all old-school Italian restaurants in New York," said Jack Serfass- CEO of Uptown Network. "It's truly a special privilege to be at the forefront of such a historic restaurant moving into the mobile age."
The Patsy's app and the Taste of the NFL app are available for a free download on the Apple App Store under Uptown Network. The Taste of the NFL is a non-profit group that fights to kick hunger and both the Patsy's organization and Uptown Network are supporters of the Taste of the NFL.