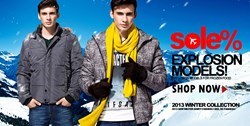 (PRWEB) February 09, 2014
Skmen.com, one of the world's leading clothing manufacturers and retailers, has recently released its new collection of men's designer suits. Today, the company has launched a special offer on these new products.
About The Company's Statement
The fashionable men's designer suits offered by Skmen.com sell well in the global market. They are available in many hot colors. All of them are made of comfortable materials.
The CEO of the company states, "We are happy to unveil our new items; they are well designed by our top experts. What's more, we have thousands of fashionable clothes in stock and ready to ship. Now, clients can get their ideal suits at affordable prices through only some clicks of the mouse. I think you will be pleased with our excellent products, sincere service and fast delivery."
About The Hottest Designs
In the new assortment, the most popular items are: 3-Ruler Fashionable Casual Stand Collar Suit, 3-Ruler Spring Fashionable One Button Casual Suit, and NIMUR British Preppy Style Retro Corduroy Suit.
Here are some details about the company's 3-Ruler Spring Fashionable One Button Casual Suit:
--Occasions: Casual
--Fabric: Other
--Season: Autumn, spring
--Color: Black, light blue
--Size: M, L, XL, XXL
--Wash Notes: Wash by hand in 30 degree Celsius water, hang to dry, avoid bleaching.
About Skmen.com
Skmen.com, a China-based company founded in 2009, is one of the leading suppliers of men's and women's high quality clothes. It has more than 5000 customers from every part of the world; it hopes to help worldwide stylish ladies and gentlemen. For more detailed information about the company and its wonderful items, readers can visit http://www.skmen.com/product-men-s-suits-009009.aspx.