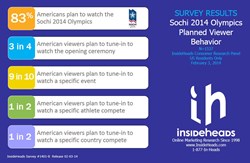 Half of viewers will be active on social media while watching the Sochi 2014 Olympics.
New York, NY (PRWEB) February 03, 2014
Online marketing research company InsideHeads recently surveyed their consumer panel to understand expected viewing behavior during the upcoming winter Olympics in Sochi. While most Americans plan on tuning in, the greatest attraction will be specific events rather than a specific country or athlete.
Three in four Olympic viewers expect to tune-in to the opening ceremony, which NBC will record and broadcast during primetime TV viewing in the US, rather than broadcast live that morning from Sochi. It is not known if the recorded ceremony will draw fewer viewers than a live broadcast.
Facebook will be the social media of choice for viewers, with two in five expecting to post online about the Olympics and one in four planning to Tweet about it.
About InsideHeads
InsideHeads is a full-service market research company providing web surveys and online focus groups to clients across the globe since 1998